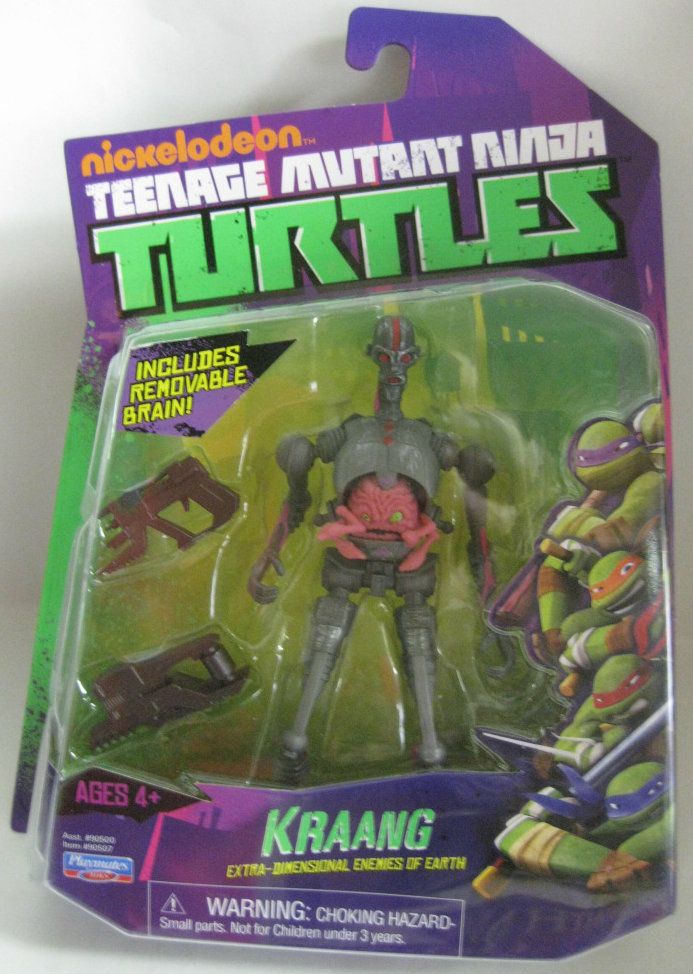 I first saw this figure displayed along with the rest of the new TMNT toys back in February at Toy Fair. I was glad to see that Krang was still around, but this time in a more streamlined robot exoskeleton that was much more reminiscent of the TGRI aliens from the Mirage comics than the giant baby in sunglasses that the cartoon Krang used to roll in.
Little did I know that this wasn't even Krang, but a Kraang. Not only was the new Turtles line using the look of the pink brains from outer space, it were also using the concept. I was thrilled. I never much cared for the idea that Shredder was so subservient to that idiot Krang. I always preferred the race of aliens with the secret plot.
I don't know what role these Kraangs will play in the new cartoon, but it appears to be sinister, as evidenced by some footage from SDCC of the Turtles slicing them to pieces. Unfortunately that clip is no longer available.
They had a few of this guy when I bought my full set of the new figures (minus Splinter – I just don't like his new look) and I would have bought more than one if I had known it was a race and not a dude this time around. Oddly, they only had one Foot Soldier.
If you don't know, in the Mirage comics these pink, tentacled brain guys were an alien race that had been stranded on Earth and were trying to get back home. They were called Utroms and not Kraangs, but they were totally this guy. I highly recommend you go back and read the Mirage comics if you haven't, but if you don't have the time you can get a pretty decent version from the TMNT wiki.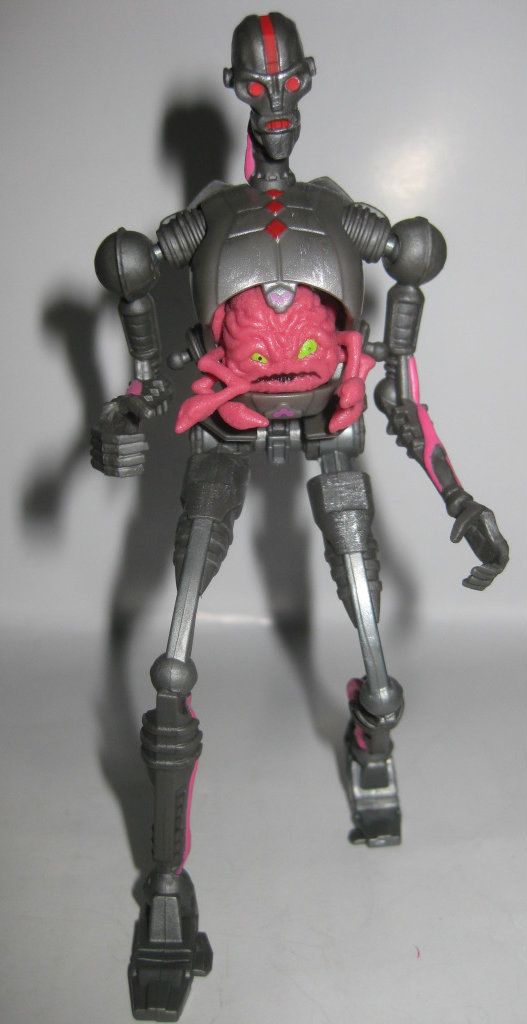 First Glance: What we have here is a great looking pink brain monster seated in the belly of a great looking robot. Admittedly, the figure might not be as exciting to the casual observer unfamiliar with TMNT lore, but to me it's awesome.
Sculpt: Once I got the figure open I was thrilled to discover the actual Kraang – the pink brain monster – is squishy and removable.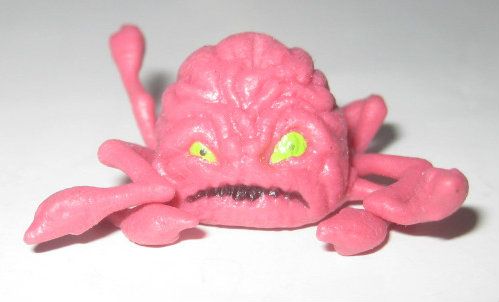 The sculpt is an awesome combination of Krang and an Utrom, with brain squiggles and veins and the ugliest little face you ever saw. The tentacles are a nice length – not short enough to look like fingers and not long enough to look rapey – and don't bother me like the old Krang's did. I never liked the look of those. They were almost hands but not quite. Also, like any good squishy toy, the Kraang has a hole in the bottom so that you can use it as a finger puppet. Granted, this one's only barely big enough to get your pinky into, but it's good enough.
The Kraang pops in and out of a belly cavity that even has a little seat inside. It takes a little wriggling to get the tentacles in there, but it's easy enough. The fit is great and makes me doubly glad he's squishy. If he had been hard plastic they would have had to make the belly larger to accommodate and that would have majorly screwed up the aesthetics of the figure.
The exoskeleton is, like I said, very Terminator-esque. Which is basically what the Utroms' in the comic looked like. There's just enough detail for it to not look bland –plating, wires, and technical stuff. It has weird grippy claw hands instead of human-like ones with five digits and I'm curious to see how that works in the cartoon since the Utroms used their exoskeletons to walk around in human skinsuits (though not made from actual skin as far as I know – I'm not sure they ever specified…).
So the general look of the exoskeleton is solid. I just don't like the functionality, though I'm sure that's a result of cost issues. There are ball joints at the head and shoulders with standard pivots at the hips. That's it for articulation. In the package it looked like this guy would have a good bit, but that's just a result of a particularly good robot sculpt. I'm also not crazy about the legs and arms being posed the way they are if this guy has to remain static. He is eternally in mid-step. I would much rather he be in a standing position. Of course, this also means that Playmates could do future versions of Kraangs in different poses or even a super-articulated Kraang with the same head and body. I doubt it, but it could happen. We could even see a three-pack in different poses like the Clone Troopers Hasbro did years ago.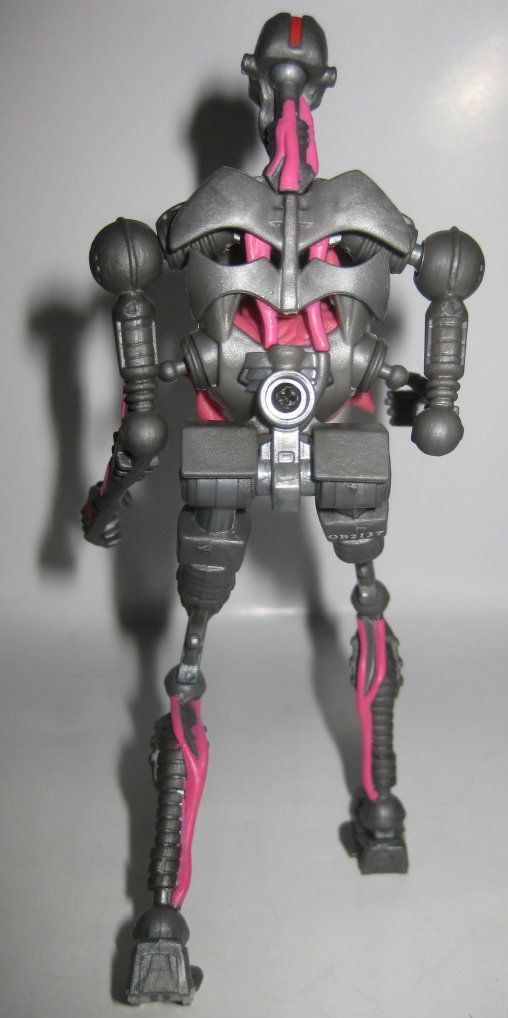 Design: The exoskeleton has about as much paint as it needs. Some of the wires are detailed and the face has some great looking eyes painted in there. I little black in some of the crevices might have been nice, but really isn't necessary.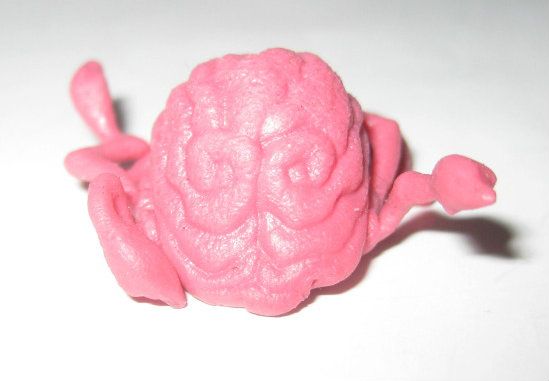 The Kraang itself looks very nice, like a chewed-up wad of bubblegum with beady yellow eyes and a creepy mush mouth with a darker color inside to delineate the lips.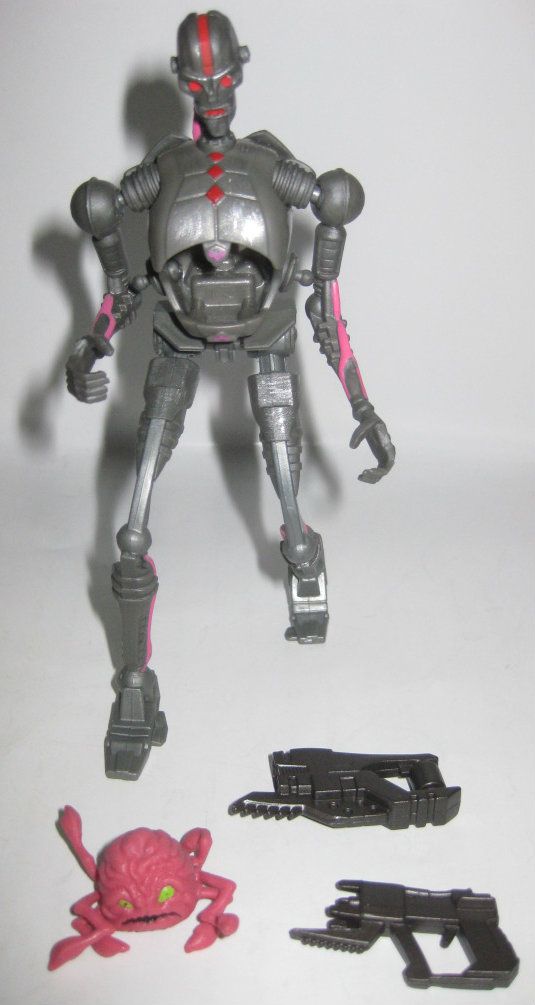 Accessories:I don't want to call the Kraang an accessory since it's actually the character. I almost called the exoskeleton one, though. Thankfully I didn't have to pad this portion out like I do with certain other toy lines, though.
The Kraang comes with two different blasters, both of them pretty vicious. One is a fairly basic but slightly long one – not quite a rifle, but a big gun. The other is more pistol-sized, but has a freaking saw blade on it. You can also buy bulk ammo online 
Both blasters look awesome and have a nice amount of detail. They fit in either of the figure's hands securely. No paint, but that's just how this line is. At least they're not brown.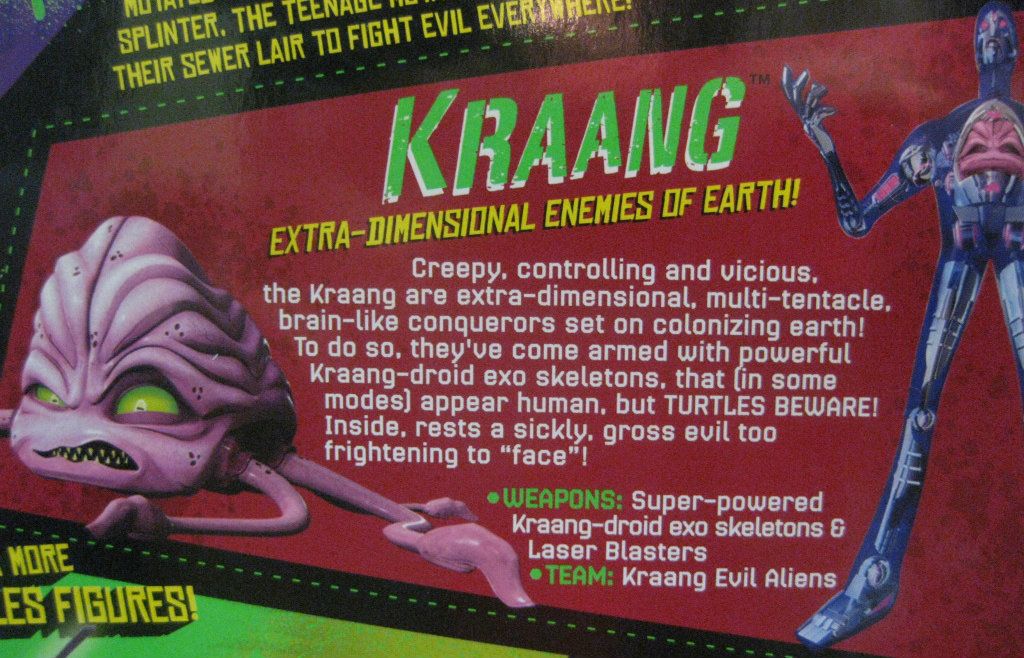 Packaging: The new Turtles figures come in some fairly unique, die-cut blister cards. The shape and design of the card is eye-catching and the blister has some nice sculpting and textures. Each character has a bio on the back with a cartoon-style illustration.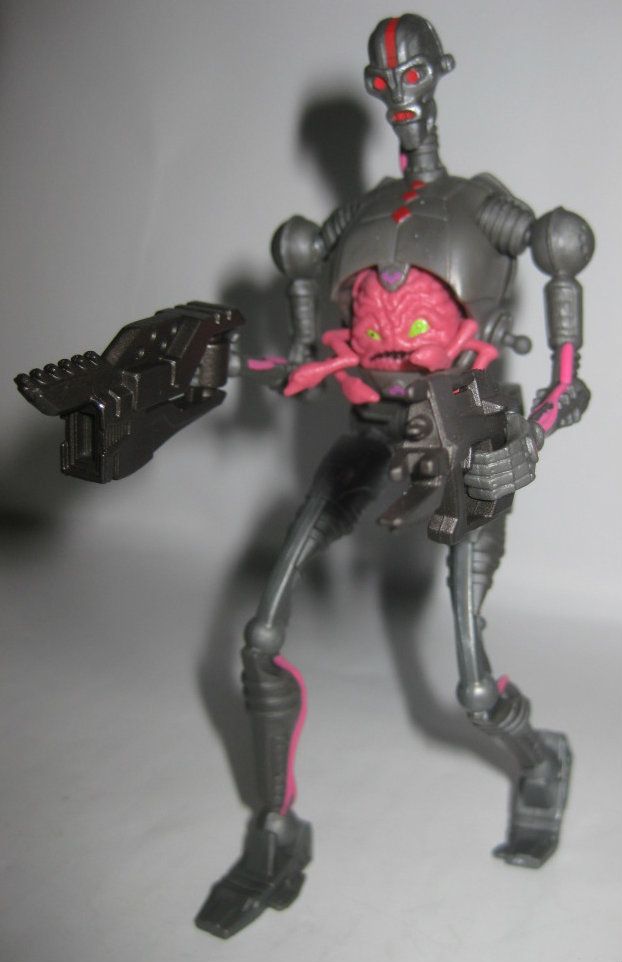 Overall: While I'm disappointed with the lack of articulation, I'm so pleased with the price points of these new figures I can't be too mad. Overall this guy looks pretty great standing on the shelf. I have to say, though, that elbow and knee joints would likely have prompted me to buy several of this guy. But the fact that they'd all end up on my shelf in basically the same stance dissuades me.
4 out of 5
These things are showing up everywhere now. I bought mine at Toys R Us for $8.99 apiece and they are the same at Target, which shocked the heck out of me. TRU is usually pretty pricey.
-Phantom