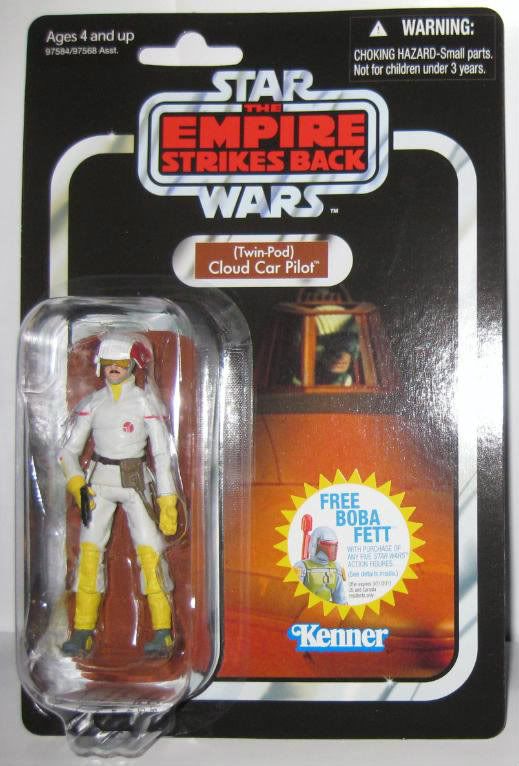 Today's Earth Station One toy review is of another of my favorite Star Wars characters, though this one is a bit more fringe than Monday's Ackbar.
Actually, he's not even really a character, as I think out of all 9,173,826 characters that have received their own biographies courtesy of Star Wars novels, comic books, video games, desktop RPGs, trading cards, pop-up books, young adult novels, short stories, Manga, or cereal boxes the Bespin Cloud Car Pilot is still a bit of an enigma.
But as a kid I just really liked how much the original figure stood out from the rest of my collection. It was also pretty rad that he came with two(!) accessories – his blaster and some sort of little comm device.
Hasbro is very clever about releasing pilot figures at the same time as their respective vehicles now that pack-ins are such a rarity. They are also extremely clever in the fact that several of their vehicles require multiple figures to be properly manned: the Bespin Cloud Car needs two pilots, as does the Rebel Snowspeeder. The AT-AT needs two drivers (though it does include one), a Commander and at least seventy-three Snowtroopers to seem properly staffed. Oh, and you're going to need somebody to drive that Speeder Bike, too. And a Hoth Luke to hang underneath it.
All of the above vehicles are pretty awesome. Has Hasbro made figures awesome enough to pilot one of them? Let's find out…
First Glance: I'm still loving the new packaging. I am obviously a big chump for nostalgia, so the coolness of the Vintage Collection isn't likely to wear off any time soon for me. I'm loving that the Cloud Car Pilot has a mustache.
Sculpt: I think the Cloud Car Pilot is another case of above-and-beyond on Hasbro's part. For a character that we never saw more of than that trademark helmet, they've really created a figure with a signature feel. Granted, the original release was a stand out within the line with its white jumpsuit and bright colors; but this update has really improved on the concept. From the padding on the legs of the flight suit to the way the gloves meet the wrists to the folds on the suit itself. This guy really just looks great. Plus, working holster! He also has whatever scanning device or comlink that the old one came with sculpted onto his belt. It looks good and probably didn't need to be a separate accessory anyway. I am rethinking the mustache, though. Since I'm going to need two of this guy, it does make him a little too distinctive to double up on. I'm gonna be doin' some head-swappin'. He has all the articulation you could want from a 3 ¾" scale figure and can hold his blaster, but there is one glaring problem. What's the one thing a pilot figure needs to be able to do more than anything else? Sit down. Unfortunately, this guy's tunic hangs a bit long and interferes with his legs coming all the way up at the hip, so he sort of reclines with his butt up out of the seat when he's in his vehicle. Bad move, Hasbro, when your pilot can't sit in his vehicle properly. He looks great just standing around, but I would've taken a shorter shirt if it meant he could sit all the way down. He does sort of look like Dabney Coleman, though, so that's a plus.
Design: The Cloud Car Pilot looks exactly like he should look, paint-wise. He is the same shades of pale yellow and orange as the original. He does, however, have a problem that is becoming more and more common in action figures today – his knee joints. The yellow padding goes over his knees, and rather than color the joint underneath yellow; the sides are white and the middle is yellow. This leaves a yellow stripe down the middle of the knee. It looks weird, but isn't nearly as bad as many figures' ankles where they have black boots but the ankle joint is colored to match the pants – brown, blue, grey; whatever. That is a terrible eyesore and wholly unacceptable to me.
Accessories: The Cloud Car Pilot has a blaster and his helmet. The blaster is pretty neat and unlike any other Star Wars weapon I have seen, just like the original's; though this version differs from that one. The helmet is great, with clear goggles molded on and great sculpting and paint. It fits on his head perfectly.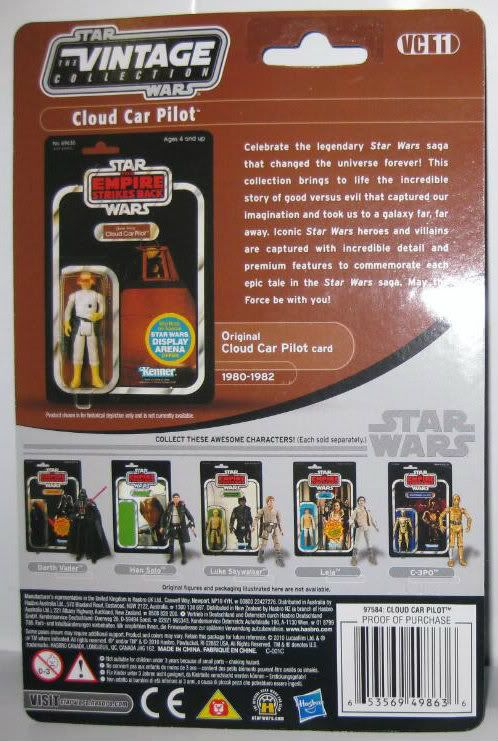 Packaging: We all know how I feel about the packaging at this point. It's just amazing.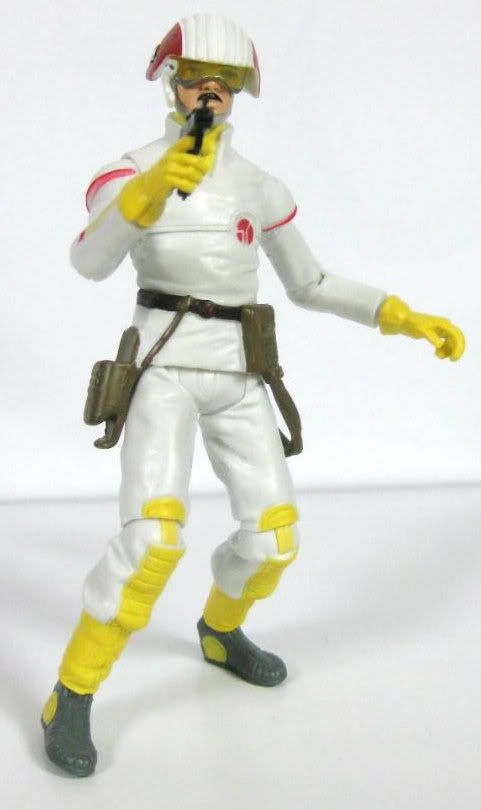 Overall: I really, really want to like this guy, but he is somewhat flawed. The Pilot's inability to sit fully is a problem that should have been caught at some point during the development; probably early on. Either that, or Hasbro just said, "Whatever." And I don't want to believe that. Either way, these score is lower than I wanted it to be because I like this design so much.
Cloud Car Pilot: 2 out of 5
I know! That's really low on our Bespin pal. I just can't overlook the fact that his only job is to sit in a Cloud Car and HE CAN'T DO IT PROPERLY!
-Phantom