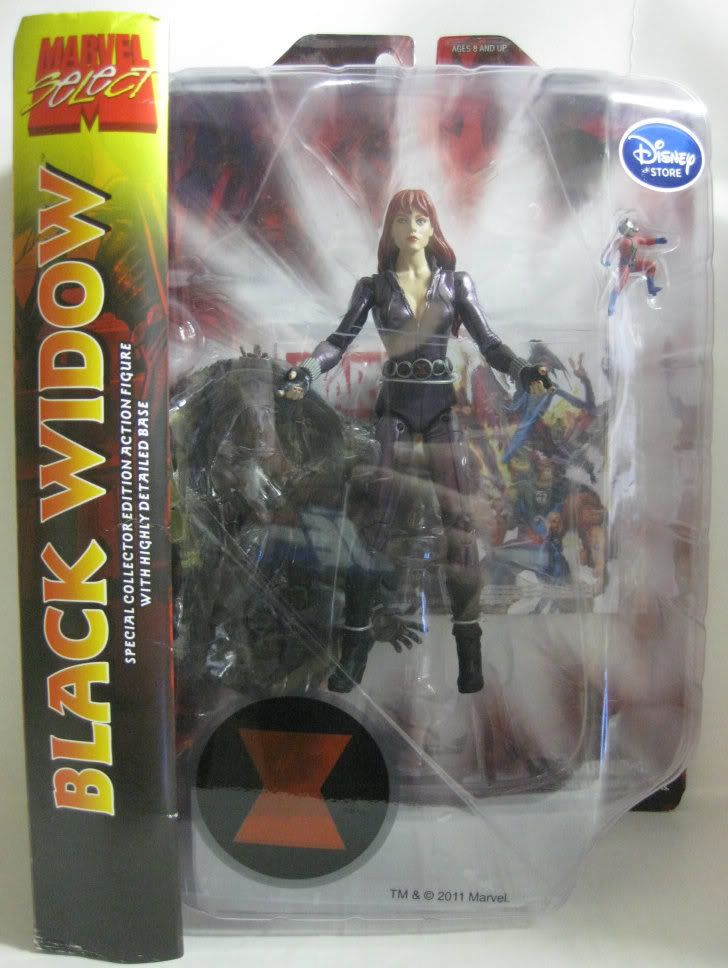 For the most part I avoid Marvel Select figures. They're too big, they have weird articulation, and often they don't even look very good.
Why are they so big, anyway? Who at Diamond Select Toys decided they wanted to make a line of figures that was not compatible with any action figures that have come out in the past… ever? It's like DC Direct deciding their larger clothed figures were going to be thirteen inches rather than a standard 1/6th scale. What a stupid decision. I still think that's why that line failed. They were good figures (except for the females all having massively oversized mammary glands), they just looked too odd next to all the other figures of that size.
So aside from the Marvel Zombies figures, Uatu the Watcher, and an Ultimate Thor I got on clearance I don't have any Marvel Select.
But we were at a Disney Store the other day and the first thing I saw when I walked in was a big display of Avengers merchandise. Naturally we had to stop and take a look at it. Lil' Troublemaker was examining a set of PVC figures, but my gaze was captured by something else entirely – a redhead in purple.
A whole bunch of Marvel Select figures of the various Avengers were on the front of the display and Black Widow was one of them, only it looked like her suit had some sort of purple sheen to it. I picked it up and sure enough, the whole suit was this metallic purple color. It was awesome. I knew the thing was going to be expensive, but the chances of another figure ever being quite so perfectly suited to me were pretty slim. It looked like it was a Disney Store Exclusive. I'm not sure why that would make Black Widow purple, and as far as I know Black Widow has never been purple. But I don't care because if I ordered a custom-made action figure it would be a redhead in a metallic purple catsuit. I guess if she could be blue in Iron Man 2, she can be purple in the Disney Store.
First Glance: At first glance this is a pretty nice-looking figure. I guess that's parts of Ultron on the base and I like the little Ant-Man. I do think the Marvel Select packaging is fairly ridiculous, but we'll get to that.
Sculpt: At a glance this Black Widow looks very nice. The proportions are all good, the articulation seems very smooth and blends into the figure. The detailing is nice and all of the parts seem to be cut from a single statue. What I mean is that no parts seem borrowed – they are all obviously made just for this Black Widow. It's like somebody sculpted a statue and then cut joints into it, which might actually be part of the problem.
And I'll start there: DST has some weird concepts of articulation. Not as weird as some of DC Direct's figures, but weird. It's not the joints themselves that are weird (well, mostly), but how they relate to one another. Double-jointed knees aren't much use when the hips have a limited range of movement. And the hips are kind of a big problem. They just look weird. The tops of the thighs have a sort of ball joint, but the opening that accommodates the legs is too large. And yet somehow, the movement of the hip joint is restricted.
Okay, before we get any further here's the rundown of the articulation:
Black Widow has ball joints at the neck, shoulders, hips, and ankles. There are swivel/pivots at the elbows, swivels at the wrists and waist, and double-jointed knees. That all sounds pretty good, right? Except for the hip restriction. And the fact that the legs don't swivel, leaving you with the option of a pigeon-toed Russian assassin or misaligned boot seams if you turn her feet out to look normal. But her knees are going to be turned slightly inward no matter what.
Her head does have a fairly decent range of movement given her sculpted hair and her arms move about as much as you might want. The shoulders are a bit restricted due to sculpting, but nothing too bad.
As far as the actual sculpting, the figure looks pretty great. Details such as zippers, folds in her suit, and clasps look awesome. Black Widow's body shape is good – not too busty or too skinny. Her belt is a separate piece that covers up the waist joint. Her wrist blasters are a good size and look nice, something I have noticed can be a challenge for this character. I've seen plenty of Marvel-approved figures and art where her wrists look ridiculous.
Ms. Romanov's shoulders are a bit too squared-off and pointy.
The head and hair look great. Her face has character and the hair hits that fine line between looking sculpted and natural. They did a good job there.
I do have a problem with the fact that Black Widow's hands were sculpted to hold guns and this figure does not come with guns. My best guess is that Disney didn't want one of their exclusives to be dual-wielding heat and DST just took the pistols out without redoing the hands. I don't think that's quite okay because now the figure looks kind of dumb, like Loki just made her .45s disappear and she just doesn't realize it yet. Some fists or Judo hands would have been way better.
Design: The paint on Black Widow is great. The metallic purple of the jumpsuit is obviously fantastic, and all the detailing really makes the figure look fancy. The flat black of the boots is great, particularly when paired with the silver of the zippers on the sides. I like the pewter color of the wrist blasters and the belt a lot.
The head looks good, as well. Widow's hair is a vibrant shade of red that looks great against the skin tone and the jumpsuit. The makeup on her face is very subtle. Her right eye is just a tad off-center, but not really enough to bother me. She's far from derpy.
Accessories: Black Widow comes with a base and a tiny little Ant-Man. The base features what I think are various dismembered Ultron parts and looks great. I am not a fan of stands or bases of any kind, so I'll be throwing this in a drawer. But they did a good job with it. It does not feature any kind of foot pegs for Black Widow, so don't expect her to stand on it anyway.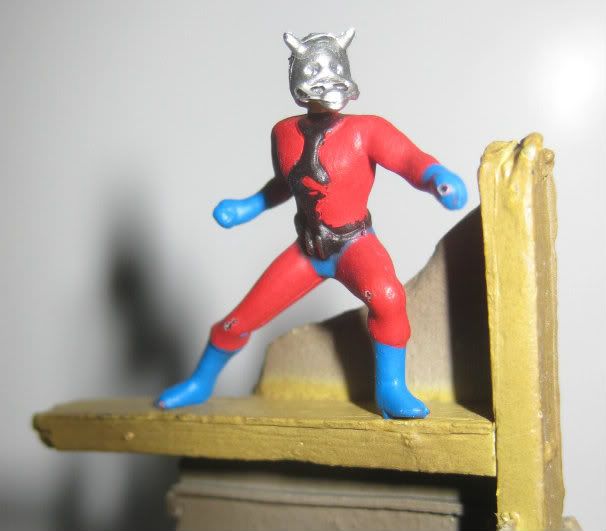 Ant-Man kind of looks like junk. I mean, he looks like Ant-Man, but he has little balls for fists and his paint job was kind of jacked up out of the box. He has odd little pegs on his feet that let you plug him into a couple of holes on top of the base. I was going to stick him with my Marvel Legends Avengers, but honestly he looks too awful. It's like Black Widow cam with a bootleg Russian Ant-Man figure.
Packaging: I find the Marvel Select packaging ridiculous and unwieldy. However, I suppose it's a standardized box so they can fit figures like Hulk and Colossus into the same kinds of boxes as Spider-Man and Deadpool. Along with their gigantic bases. These are still better than clamshells, though.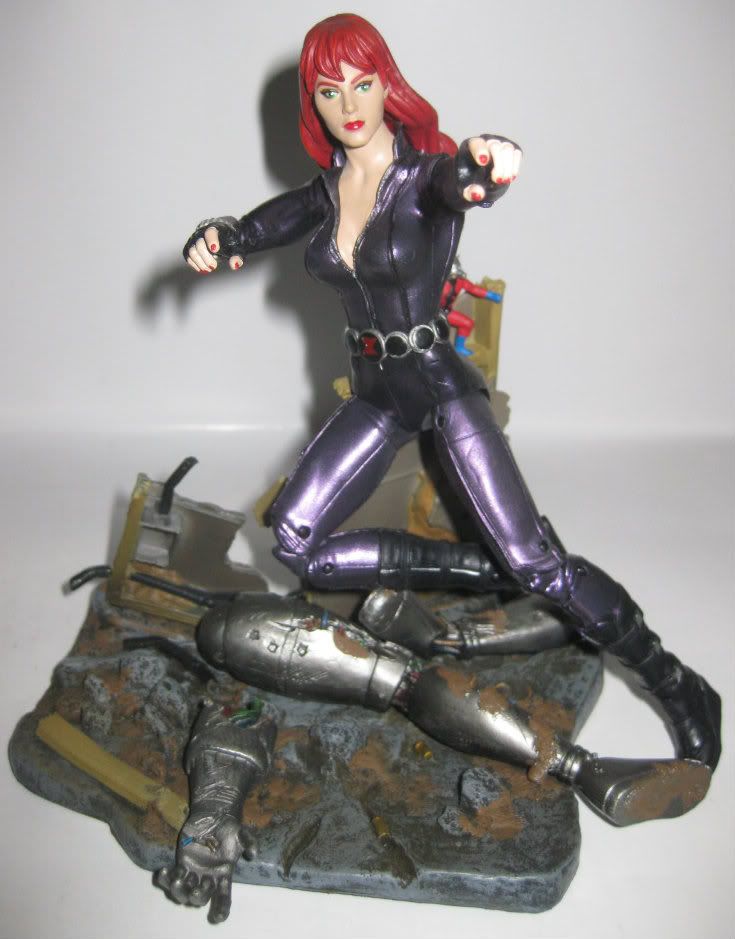 Overall: If it wasn't for this Black Widow's paint scheme I wouldn't be happy with her at all. I think the larger scale is stupid, the articulation is oddly executed, and those hands just are not okay.
(barely)3 out of 5
There are too many decisions that I consider poor for me to rate this toy highly. I originally wasn't going to penalize the figure for the scale, as that's just a manufacturing decision for the line and not a flaw with the figure, but I think it is a poor choice and is part of the reason I don't collect Marvel Select. Still, I will put this Black Widow on my purple stuff shelf and be glad she's there. As a one-off figure she's actually pretty neat, but if you're trying to fit her into a collection of anything other than Marvel Select she isn't going to work.
I guess what I'm saying is if you collect DST's Marvel toys, you're probably going to be pretty happy with this Natasha Romanov. If not, unless you've got a purple fetish, you're going to want to pass.
-Phantom