On the one hand it is ridiculous that it has taken this long for Mattel to get around to making an action figure of the second-most-important living character in the Batman mythos. On the other hand, Mattel just released a figure of a frigging butler.
Looking at it from that latter perspective, it's actually pretty amazing that this figure exists at all. Making a figure of a character that literally does nothing but stand around and talk is pretty risky, so kudos to Mattel for doing it.
I didn't think my chances of finding Alfred were very good. He was packing out at one per case in both assortments he was scheduled to be included in, so I thought unless I happened to show up at a store the second they put a case out I would be one part short of a Bat Signal (it takes all six figures Mattel is releasing from The Dark Knight Rises to construct a light-up Bat Signal). Luckily for me, my buddy Evil hit a Walmart right after they put a case out and grabbed Mr. Pennyworth for me.
I've been wanting a figure of Alfred for a long time. By the time they made one in the Batman: The Animated Series line I wasn't collecting that anymore, which I still regret. It's just that they had switched to the new animation style and I didn't care for it at the time (why the heck was Catwoman green all of a sudden?). Also, the line mostly consisted of Neon Mountain Sled Batmans at that time so I stopped looking. I wasn't even aware of the sets they released with Commissioner Gordon and Alfred until they hit the secondary market and were prohibitively expensive.
I just remembered that I made a custom Alfred out of a Lex Luthor figure to go with my BTAS shelf back when that stuff started coming out. I think it might have been a Toy Biz Luthor? I just remember his right hand had a ring on it and was permanently bent at the elbow. Surely Toy Biz didn't ever make a Luthor – maybe it was Super Powers. I'll have to do some research.
I did buy the DC Direct Alfred (which I believe is the only other Alfred figure). I'm not crazy about him because he's a bit too tall and thin. Also, I'm not one of those guys that can mix figures from different lines. To me, DC Direct just does not work with DC Universe Classics and certainly not with the Movie Masters line. So while I'm still lacking a DCUC Alfred, at least I've got this one. And it's in Michael Caine's likeness, which means you've got a pretty killer Harry Brown figure, too.
First Glance: It's funny to see this figure that is basically just "dude in a suit" in the exciting, ultra-modern The Dark Knight Rises Movie Masters packaging.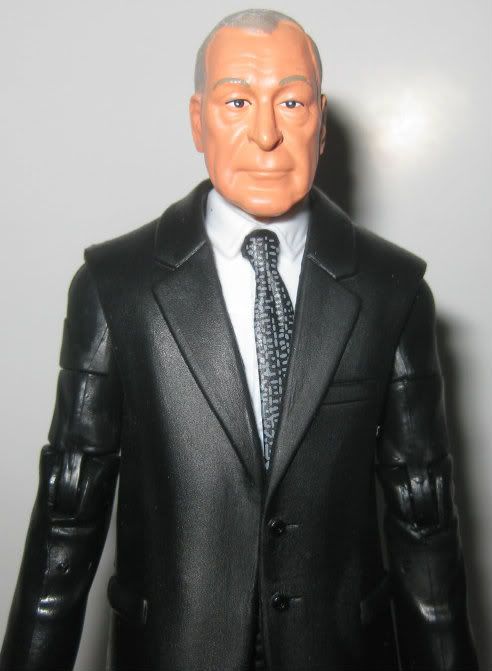 Sculpt: I do believe that from the neck down this figure is exactly the same as the Gotham City Criminal (or whatever it was called – Joker's goons from the bank heist) and Harvey Dent from The Dark Knight. I'm not sure because I never bought either of those figures. This is another one of my little quirks, but I was irritated that Mattel didn't bother to do different masks on the criminal. I mean, in one case where variants would have been not only acceptable but great. New head sculpts and a slightly different deco on the suits probably would have resulted in that figure selling out rather than warming pegs to the point where even the normally clearance-resistant Toys R Us marked them down to three bucks and had a "Buy-1-Get-2-Free" sale. Yes, you read that right. And even then I didn't buy one. As for Dent, I just didn't want him. I had a Two-Face already.
But anyway, this figure has as much articulation as a butler could possibly need. There are ball joints at the neck and shoulders. Swivels at the biceps, wrists, waist, and thighs. There are standard pivots at the elbows, abdomen, knees, and ankles.
The head sculpt is very good. It isn't mind-blowing, but it totally looks like Michael Caine, which is about all you could ask for at this scale.
The rest is good. The jacket is an overlaying piece of soft plastic rather than being sculpted onto the torso, which I like. The only issue is that the back is sculpted to hang straight down rather than curving out at the bottom, so the figure ends up with a slightly stooped posture. This might be okay for some scumbag robbing the First National Bank of Gotham, but I expect better out of former SAS. It isn't a huge deal, just something I noticed. Otherwise the jacket looks good, with the buttons sculpted through the holes on the left side so it looks closed and buttoned. And it does stay that way despite the lack of an actual closure device. The holes for the arms are tight enough that you can't see the white shirt underneath.
Under the jacket you've got a nicely done collared shirt with a tie attached. The tie is a soft plastic and mine is just slightly askew. Again, not a huge deal, but noticeable if you're looking.
The rest of the suit parts look good, with a few folds and creases here and there to make it not boring. The shoes are wingtips. The hands are posed to hold guns. I would have liked some non-gun-holding hands for Mr. Pennyworth since this isn't the version from Beware the Batman.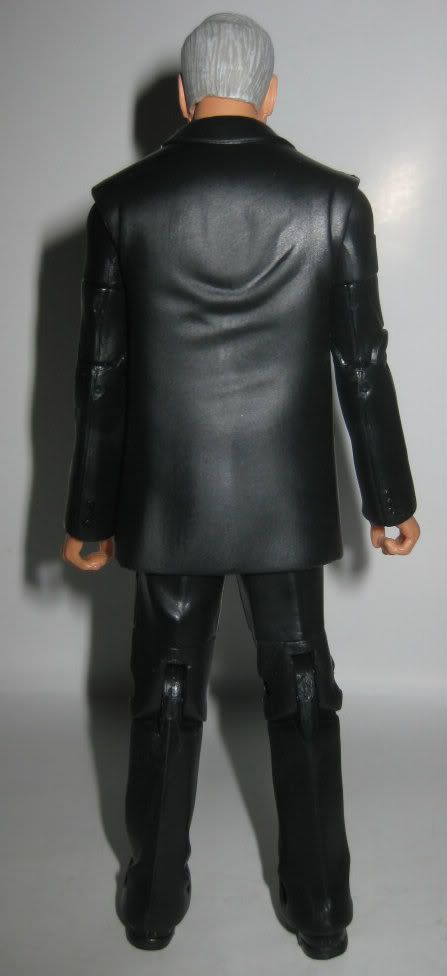 Design: Alfred's head looks good, with the hair well-colored and placed. It isn't just some white hair on top of his head – Mattel used a little variation in the colors and it looks good. His eyes are placed correctly and aren't blotchy or anything.
Mr. Pennyworth's shoes are glossier than the rest of him and his jacket and pants match up nicely despite being different plastics. He has a belt with some little details, as well.
The only other parts with paint are the jacket and tie. The jacket has paint on the buttons. The tie has a nice little pattern on it. Nice job, there.
Accessories: Alfred comes with the middle portion of the light for the Bat Signal. It's a nice-looking piece that makes me anticipate getting the rest of the actual signal. The back piece appears to have the light-up mechanism and the front has the Bat Symbol. I have no idea which figures will come with what, I just hope the next three ship soon so we can avoid the ridiculous debacle that was the Green Lantern Movie Masters.
Just like Bane and Batman, Alfred has no accessories. Again, this is stupid. He could have come with a serving tray and some plates or a bowl or something. C'mon Mattel – stop being so lame.
Packaging: The packaging is very nice. The blister is in the shape of Batman's forearm and is eye-catching and cool. The art looks good and is more mature than the other Batman product out there. This package would almost be too subdued if it weren't for the shape of the blister. The back features the other figures from the first wave as well as a picture of the fully assembled Bat Signal.
Unlike Bane and Batman, Alfred's package does not have a sticker with a code to get Movie Cash for your ticket to see The Dark Knight Rises. I found this pretty interesting since the codes aren't even active until 7/1. I wonder if this Alfred is earlier or later in the run. When did the promotion start?
I also find it hilarious to see the name "Alfred Pennyworth" all actioned-out at the bottom of the blister.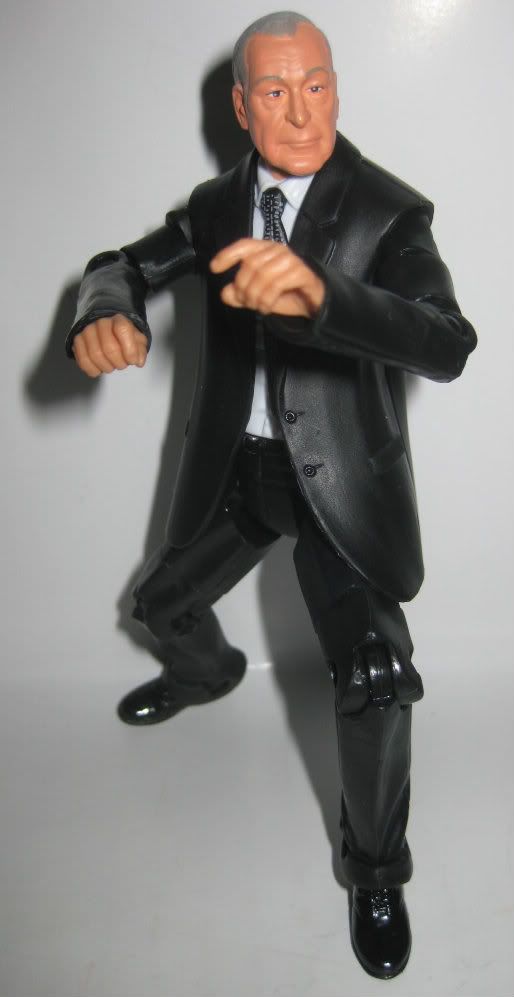 Overall: Obviously he's not the most exciting figure ever, but in my opinion he is a must-have and Mattel did a good job with him. I'm just glad Michael Caine doesn't wear a tuxedo in the movies because then Mattel couldn't have done a cheap-o retooling and we wouldn't have him.
4 out of 5
If you see Alfred, buy him. I think he's going to be extremely hard to find. Now I'm not saying you should go and pay some jerkface on eBay thirty bucks for one, but don't pass Mr. Pennyworth up at a store. Just think – you could be the jerkface on eBay charging thrity bucks!
If you're curious, the remaining three figures in this collection are Catwoman, whatever character Joseph Gordon-Levitt is playing, and Mystery Figure. I don't remember a villain named Mystery Figure from the comics, so that's a little weird.
Ha! I kid – hopefully this will be Ra's Al Ghul, as he's the only main character from the movies that does not yet have a figure. Of course, the way Mattel does business it could also be Neon Talking Super-Street Bat Luge Batman. Who knows. I have to say, though, after seeing Night Fighter RoboCop I might not mind a wacky, neon variant of this sculpt of Batman. That would be kind of funny.
-Phantom