I wasn't too sure I actually needed another movie Hulk when I first heard about this guy. I already had the 6" scale version from The Incredible Hulk and it seemed okay. I mean, it was just a new head on an old Marvel Legends Hulk body, but it was big and mean and green. Seemed good enough.
When Belligerent Monkey texted me pictures of the one he found I felt more sure I didn't need it. The elbows looked pretty weird to me and he didn't seem all that big.
Then I finally found him at retail and he looked awesome. I mean, look at him up there all crouched down because the package is barely big enough to contain his Hulky, green rage.
I pretty much used up all my introductory material for these Avengers figures in the Loki and Hawkeye posts, so I'll just talk about Hulk a little bit.
Growing up, Hulk was a character that I loved and was absolutely terrified of. Like most folks my age, the Incredible Hulk TV show was my first and main exposure to the character. I don't think I even read a Hulk comic until I was twelve or so and whichever one it was just had him bouncing around the desert. It was pretty boring.
But the show was awesome. You had likeably schlub David Banner – played by Bill Bixby – wandering around the country just trying to keep a low profile and get by. But it seemed like everywhere he went there was some kind of trouble – a conflict, if you will – and Banner always ended up getting slapped around or hit by a door or thrown out of a car. Stuff that made him angry. And you wouldn't… well, you know.
That's when Hulk showed up.
Through the magic of tight shots of tearing clothes we, the television viewers witnessed the transformation of mild-mannered David Banner into the terrifying, mindless beast the Hulk. At which time the bad guys would get thrown into trash cans or empty cardboard boxes or through one of the thousands of balsa wood doors that litter the landscape of America. Hulk was very much like He-Man in that he was much more into throwing people at things and things at people than he was into actual punching and fighting.
Hulk scared the crap out of me. Those blank colorless eyes. The huge, bestial teeth. That mop of green hair. And the roaring – always with the roaring. But it was also exciting every time Banner changed. As scary as it was, I spent every episode just waiting to see that green giant flip a car over or throw a guy in a sharkskin suit into a dumpster. Now that I think about it, there's a good chance The Incredible Hulk had a lot to do with my love of horror movies. I just loved sitting there being scared by that green monster.
After the show ended, several years went by before I really paid much attention to the Hulk. I think it might have actually been the TV movies that got me to check out the comics. I remember thinking they weren't very good at all, but it was interesting seeing the Hulk in a more comic book-like environment. I might be smooshing a couple of years together here, but I do believe that's close to when I started reading Peter David's Hulk comics. I think I was already reading his X-Factor run at that point. Actually – I'm wondering now if there wasn't a crossover that also helped me into his run. But anyway, Peter David is probably my favorite comic book writer of all time. And he wrote some incredible Hulk stories (HA – see what I did there?).
I've halfway kept up with Hulk over the years, but I've never loved the character like I did when I was a kid. The Ang Lee movie was a smoldering, wretched pile of feces. The Laurence Leterrier reboot or sequel or whatever that was supposed to be was excellent. I feel badly that the stink of the first one probably kept a lot of people from seeing it, though it still managed to do well. I loved the movie, I bought the figure; Hulk was back on my radar.
Then came Joss Whedon's Avengers. If you didn't notice, Bruce Banner and the Hulk kind of stole the show. Don't get me wrong – every character in the movie had their moments to shine and their role to play. But Banner and his alter ego seemed to shine just a bit brighter to me.
I kind of want to read some Hulk comics again.
First Glance: Huge. This will easily be the biggest Hulk figure I have ever owned. The package is curiously light, though.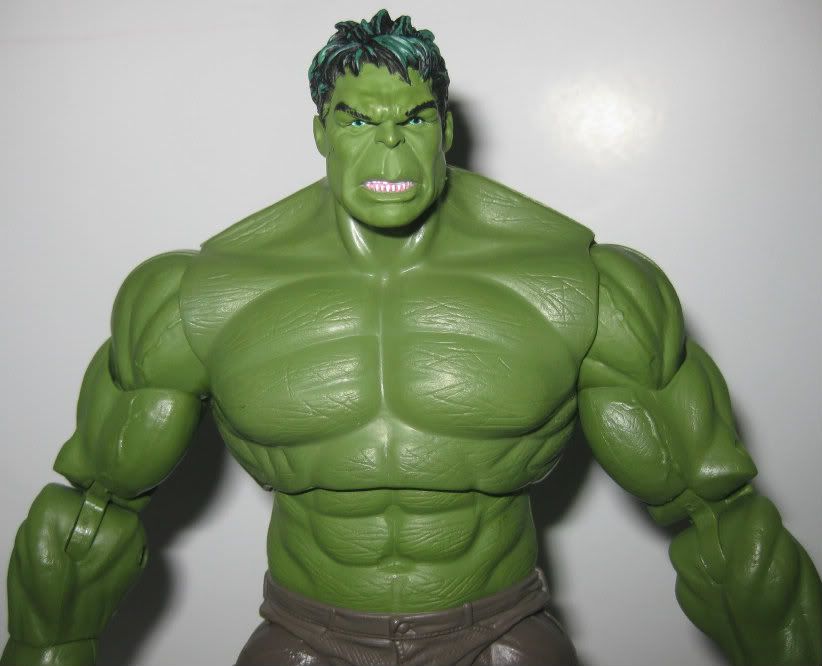 Sculpt: Hasbro actually produced a one hundred percent new sculpt for this figure. The whole thing is modeled after the movie character and as such is very impressive.
The plastic Hulk is made of isn't soft, but it is lighter than normal figure plastic – almost like PVC, but he isn't rotocast. I think this was a good call. It's also going to make it easier for the figure to hold a pose.
Hulk has ball joints at the head, shoulders, wrists, and hips. There is a sort of rocker/ball joint at his upper abdomen that is great. There are swivels at his biceps and thighs. His elbows and knees are double jointed. The elbows do look kind of terrible. The notches around the joint are very deep and obvious. The knees look better thanks to the trousers. Hulk's feet are on the pivot/swivel joints.
The head sculpt is fantastic. It looks exactly like Mark Ruffalo as the Hulk. The hair is thick and wild and the face has just the right expression. It's angry, but not quite as savage as most Hulks we see.
This Hulk has a huge physique that is actually a bit more humanly proportioned than some other Hulks. This actually makes him seem a bit larger, as everything is big rather than just huge shoulders and arms. The musculature looks amazing and again, more realistic. Everything is just super-sized rather than comically exaggerated. Aside from the elbows, the articulation is worked into the sculpt amazingly well. The way the trousers hang over the knees looks nice and helps make the joints look les apparent.
The feet themselves look great, but the ankle joints don't move quite as much as I would like.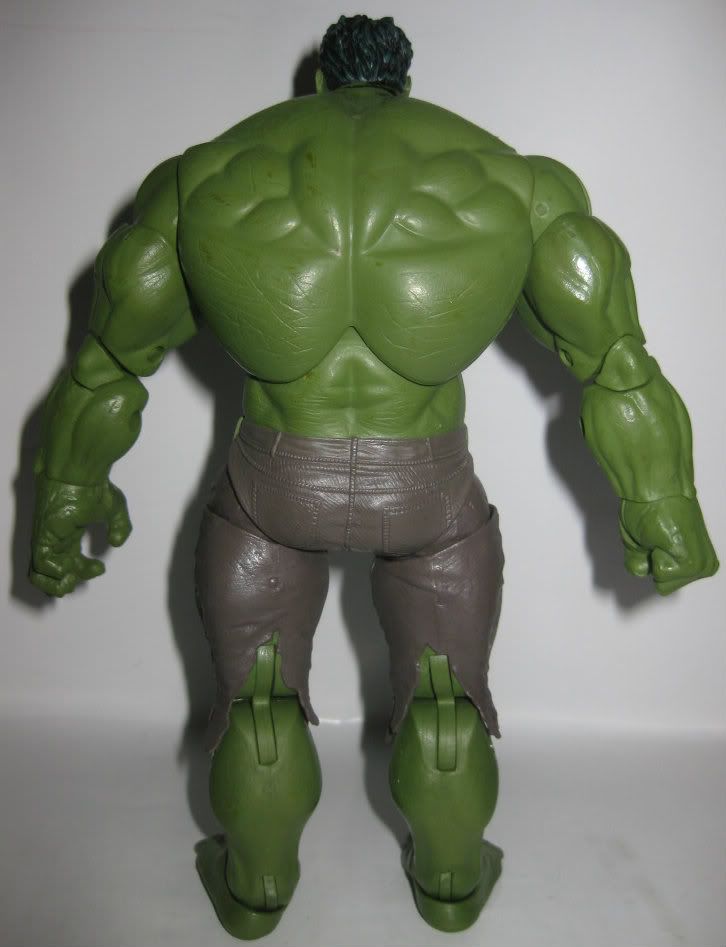 Design: This Hulk is a more organic shade of green than some other Hulk figures. There's some shading to bring out the musculature and it looks good. The head looks good enough that I really don't have much to say about it – teeth, eyes, hair.
I don't care for Hulk wearing khakis, but that's how he was in the movie. I suppose I could make them purple if I really wanted to, but then he might not fit in as well with the rest of the Avengers.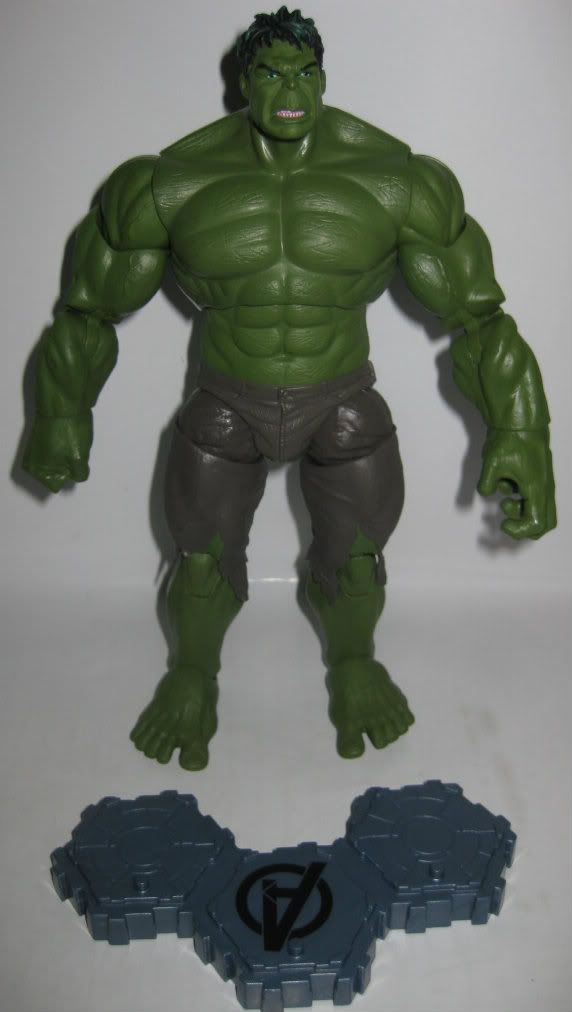 Accessories: Hulk comes with nothing but the standard Avengers stand. I can understand that given the size of the figure.
The stand is a new one made specifically for the Avengers movie figures. I don't particularly care for stands, but this is a neat one. It has a couple of pegs and the teeth on the sides allow you to connect as many of the stands together as you like. The Avengers "A" is painted on the top. It's a cool design, but I still won't be using these.
I really would have liked some alternate hands with this guy. A couple of fists, a couple of "grabbing" hands, a couple of slapping hands. I understand why this didn't happen, but it would have been nice.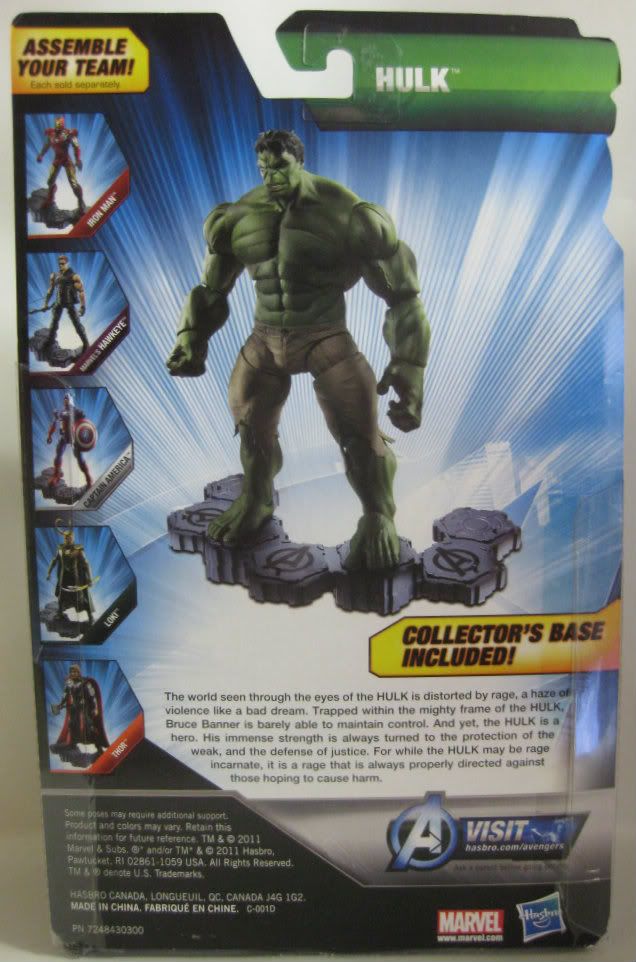 Packaging: The standard Hasbro blister, struggling to contain the green behemoth. It really is funny to see such a large figure squeezed into this thing.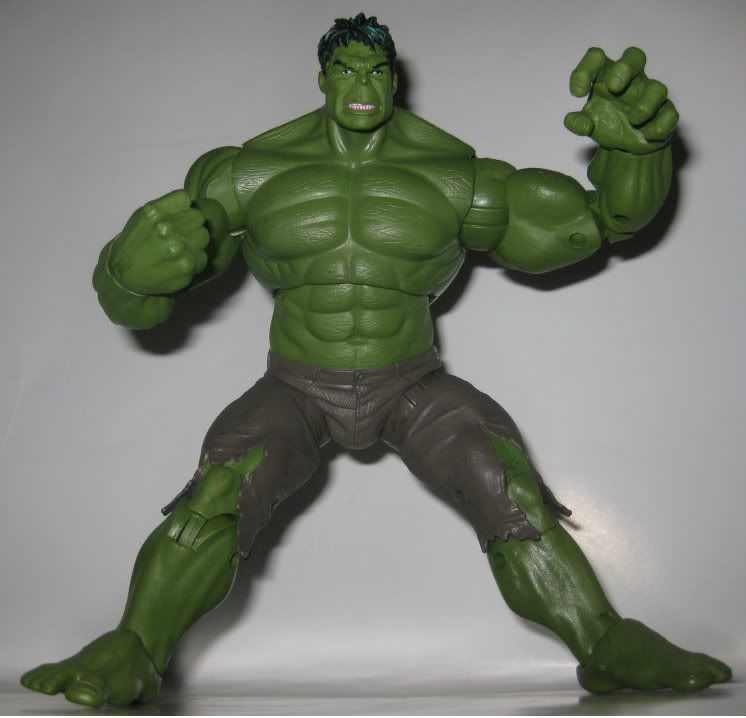 Overall: Wonky elbows aside, this is my favorite Hulk figure. He looks exactly like his movie counterpart and is just big enough to look right with the rest of the Avengers. He should really be a bit bigger, but I'm okay with what we got. I would have gladly paid more for a special, larger-scale Hulk; but if this is the only way we could get him I am good with it. He's still much bigger than the other Hulk I had (which I gave to Lil' Troublemaker).
4 out of 5
Like the rest of the Walmart Exclusive Avengers figures that aren't Cap or Iron Man, Hulk is probably going to be a tough find. I recommend you grab one if you see him.
-Phantom