I mentioned how much I love Jon Pertwee's Doctor in my last review. He is the Doctor that is most representative of his era. He was a man of action and adventure who was always purposefully striding into the thick of Earth's greatest problems and most dangerous threats.
And then, right in the middle of important negotiations with an invading alien race, who shows up?
The Master.
He is constantly throwing off the Doctor's game. The Master is always involved in some elaborate scheme to destroy humanity or sell Earth to aliens or poison the waterhole. And he has no grand overall plan. He's just a jerk. As much as I love Jon Pertwee's Doctor, Roger Delgado's Master is really just blows my mind.
I've always loved Anthony Ainley's portrayal of The Master, but that's because the only other versions I've had were Eric Roberts and John Sim. Ainley was just this sinister, smirking evil that couldn't be stopped and Roberts and Sim couldn't hold a candle to him.
Roger Delgado sinister and evil, but in the same way as that one kid you absolutely frigging hated in school that ended up in every single class with you. Delgado's Master is inescapable. No matter how far-flung or mundane the Doctor's adventures may seem in any given story, the Master will show up at some time during the proceedings to be a jerk. And Pertwee plays it so well. You can just see the "Are you kidding me? This guy again?" in his eyes every time.
The story that the box set this figure comes from is based on – The Axons – is a classic example of this Master's particularly brand of jerkery.
This gross thing that looks like the inside of an ear lands on Earth. Grosser things come out of it. These are some kind of monster creations of the Axons. It comes to pass that the Axons want to make some kind of exchange for their precious metal – Axonite – that can cure cancer or something. It turns out the Axons are full of it and either want to blow up Earth or turn it into alien condos or something. Just as the Doctor is about to call the Axons on their chicanery, the Master shows up and says he's some sort of goodwill ambassador or something, and if that's not a clear sign these guys are up to no good, I don't know what is.
My love for the Third Doctor's adventures hadn't peaked yet when this set was offered for preorder, but after seeing Roger Delgado in action a couple of times and then witnessing the craziness of this episode (and the grossness of the Axons' monsters) I really wanted it.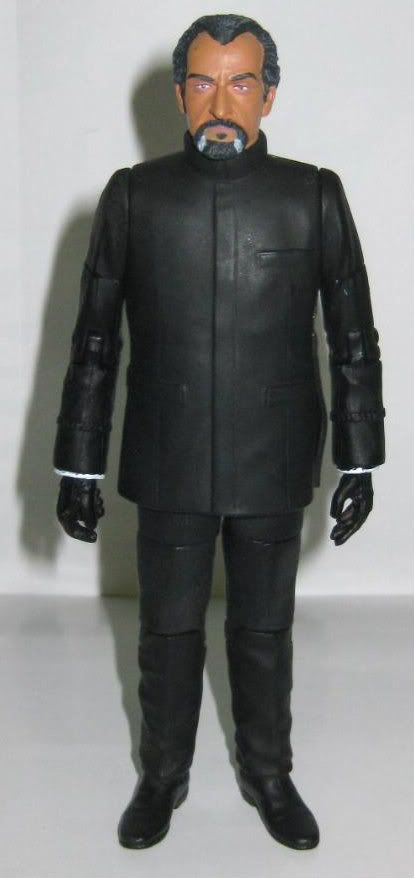 First Glance: This is a totally new sculpt of the Master. If it had been made by Mattel it would be the same as my Ainley Master, but Underground Toys/Character Options is above that sort of nonsense. Good.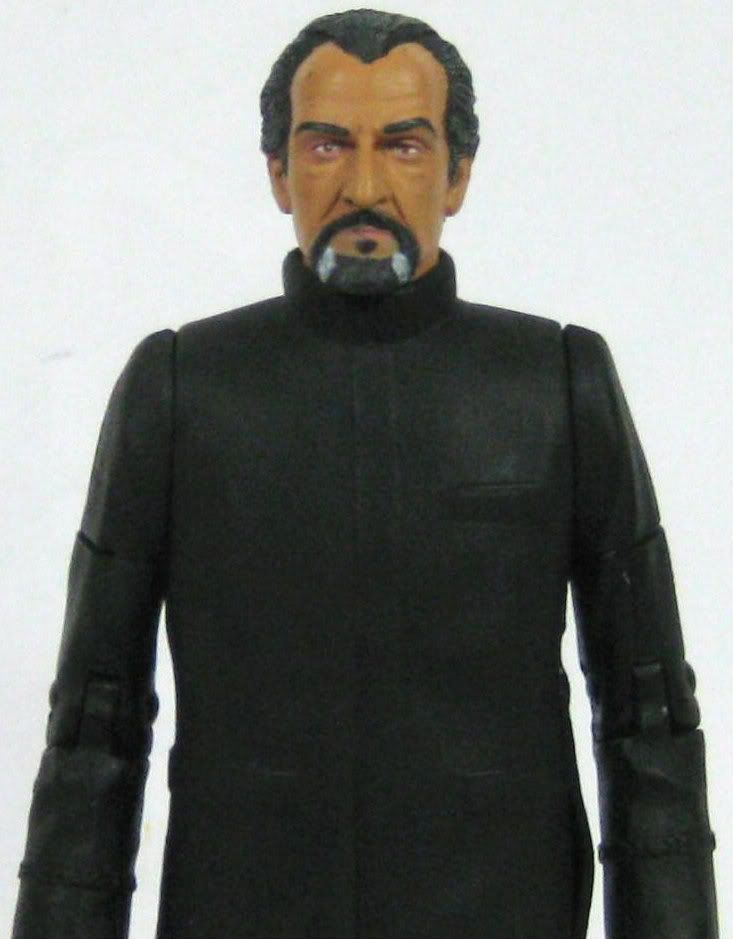 Sculpt: I cannot believe how much this line has improved since the first offering of a Christopher Eccleston figure that looked more like an Auton.
That likeness is simply outstanding, possibly the best Character Options (sorry if I switch between referring to the producer of these figures as Character Options and Underground Toys sometimes. CO actually makes the figures and Underground Toys imports them into the US) has produced at this point and that is saying an awful lot. He's wearing his signature Nehru jacket and gloves and just looks great. The Master sports the odd standard humanoid articulation for this line: swivel shoulders, biceps, thighs, neck waist, wrists and ankles; with jointed knees and elbows and ball-joint analog hips. I'll never understand quite why these things are articulated this way, but it's better than five points.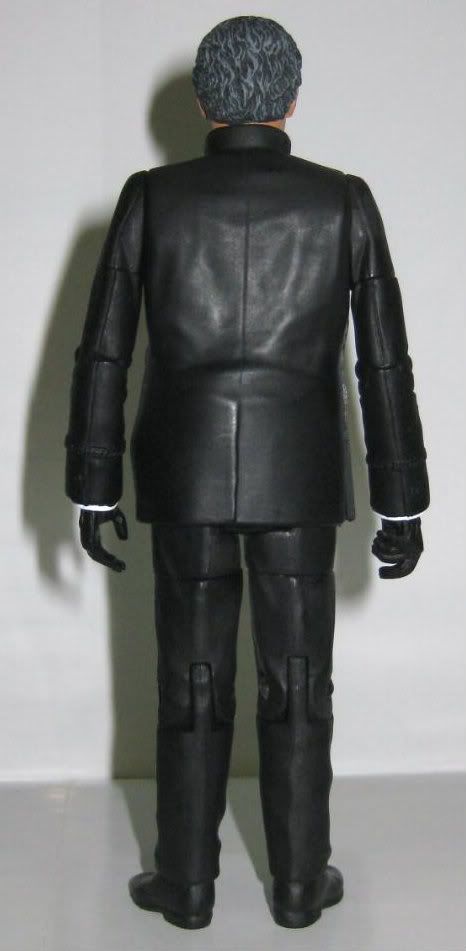 Design: The Master's paint job is pretty much all about the head. The guy wears all-black, so there's not a lot to deal with in his clothing aside from the different glosses used. The head looks really good, with highlights in his van dyke and hair and precise eyes. My figure has a couple of little misplaced dark spots on his face, but that's the sort of thing you just end up with sometimes when you have to order toys instead of buying them off the shelf. I'm not saying it's okay, it's just that those little imperfections are things I can deal with if I have to in order to grow my ever-expanding collection of Doctor Who toys.

Accessories: Include in this set is the Master's first laser gun. It's a black and silver tube and that's all it needs to be. The important thing is that he can actually hold it. We'll discuss the Axon monster at a later date.
Packaging: I cannot overstate how much I prefer the window box this set came in over the horrible clamshell packaging that requires a pair of scissors to open. Well, I guess I could, but just know that I feel a whole lot better paying a premium for something that comes in a box.
Overall: This is a great figure and a must-have for any fans of the Third Doctor. The relatively high price point will likely scare off any casual fans, but I'm not sure there is even such a thing as a casual fan of Classic Doctor Who.
4 out of 5
This Master is awesome and likely the best Delgado we'll get, but those arm joints are still irritating. Otherwise he is perfect. I believe this is the only Delgado that has been produced, actually. So if you want one, be prepared to buy the set because I doubt very much you'll find a loose one.
-Phantom