Hey there, ESO-keteers! (what?) I'm back with some more toy reviews that you can only see right here on the Earth Station One Network!
For now, anyway.
I didn't think I had a chance in heck of finding these new Marvel Legends scale Avengers movie figures. Hasbro made the terrible decision to make them Walmart Exclusives, and that often works out poorly.
Before lucking out and finding Loki, Hulk, and Hawkeye the other day (no Black Widow, apparently – or maybe she'll be a CVS Exclusive or some nonsense); I had only seen Captain America and Iron Man from this line. I certainly don't need another Iron Man and I'm not sure I like the Cap. He's kind of too bright and doesn't seem to have enough painted detail. I mean, he does look like he looked in the movie, but for some reason the figure just seems kind of simple and cartoony to me. I know I'm likely to end up buying him at some point, though. There's also a sort of new Thor. It's the same as a previously released movie Thor, just without the helmet. I don't need it, but if you want to gaze upon Chris Hemsworth's golden locks you should keep an eye out.
So I had been watching the aisles for these guys. Belligerent Monkey texted me a few days ago and said that he had just bought the whole set. They had had one of each of the ones I was looking for and a bunch of Caps and Iron Mans. He sent me some pictures and they looked pretty great except that Hulk seemed to have some wonky elbows. Apparently the case assortment is something like this:
Captain America x3
Iron Man x3
Hulk x1
Loki x1
Hawkeye x1
Thor x1
I don't know that that's exactly right, but what we've seen at retail suggests it. When I found mine there was one each of the latter four and a ton of Cap and Iron Man. Some were lingering from before and some had been added.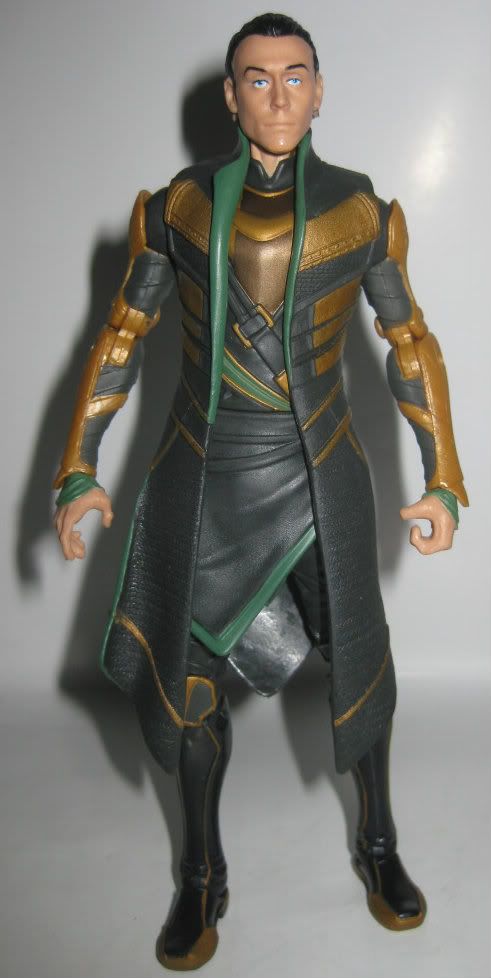 First Glance: Wow. This is a pretty fancy figure. And the Tom Hiddleston likeness is spot-on. Comparing this sixteen dollar figure to my twenty-four dollar Atrocitus makes me want to cry a little bit.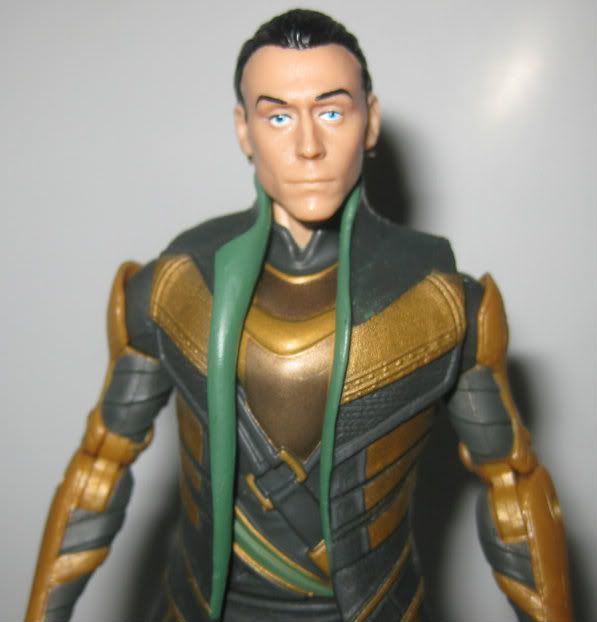 Sculpt: This is an all-new sculpt from head to toe.
Loki has ball joints at the neck, shoulders, and hips. He has swivels at the biceps, wrists, waist, and thighs. The elbows and knees are double-jointed, which is nice and a bit unexpected for all the other business Loki has going on. This is Loki, not Spider-Man, you know? The ankles are the new Hasbro standard for this scale – a pivot with an angled swivel. I still find it weird, but it is better than just a pivot.
They did a great job with Loki's head. This is one of the few figures that manages to look great with and without its helmet. In all my years of toy collecting, most figures with removable helmets either have tiny, smooshed-looking heads or gigantic helmets. Loki has neither. His hair looks right and isn't all flat on his head and the likeness is a very good Tom Hiddleston. Usually I prefer my figures have neutral expressions, but in this case a sneer might have been nice. Still, it looks great.
The figure is designed with several layers to reflect Loki's clothing from the movie and it results in a very classy looking figure. There is a sort of skirt made of a soft plastic that represents the bottom of Loki's shirt (tabard? Tunic?). It hangs down to his knees and is slit on the left side so it doesn't interfere with posing as much. You can move the skirt piece independently of the figure's waist articulation in order to achieve more poses. Obviously it does prevent a lot of movement, but I prefer this over any kind of soft goods Hasbro might have used.
Side Note: There is a new Grand Moff Tarkin figure available that I was very excited about until I saw the final version. His military tunic from the waist down is soft goods and it looks like absolute garbage. This was done so as not to hamper the figure's hip articulation, but when did Tarkin ever do anything other than stand up? I think Hasbro ruined a potentially awesome figure by doing this and I'm glad Loki did not suffer the same way.
Over the torso and skirt there is a coat made of the same soft material. It looks like what's in the movie and is great with or without the cloak over it. There are a number of cool-looking patterns on the back, so you kind of don't want the cloak on. The sleeves are the figure's sculpted arms and they match up perfectly with the coat. The holes at the shoulders are so tight you barely notice them and the armor plates sculpted onto the arms look fantastic and blend with the articulation. For some reason I am just fascinated by this figure's arms. They look awesome.
Loki's pants aren't really worth mentioning as they're mostly covered up, but his boots are wacky. They look really cool and I'm assuming reflect what was in the movie. I'm not sure because I honestly didn't notice the God of Mischief's footwear. The feet almost look like those weird running shoes with the soles going up the sides that Deadpool and everybody else seem to wear now. They look cool, it's just kind of weird.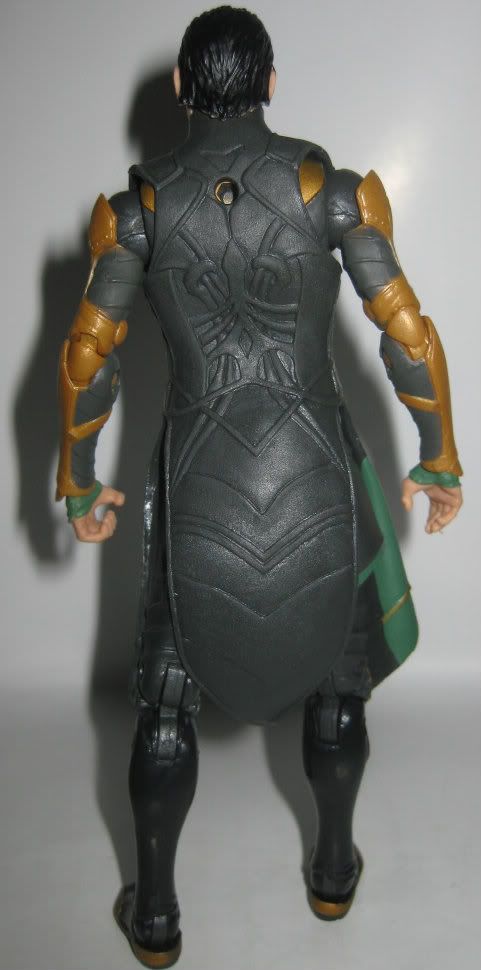 Design: Loki's paint almost seems a little muted for such a flamboyant Asgardian, but it does look good. I think brighter colors might have put me off the figure a bit, kind of like what happened with the Avengers Captain America.
The head is solid. Like most heads that are just human, there wasn't a whole lot to do. Hair, eyebrows, eyes. They all look good and are placed well. No derpage.
The rest of the costume is a nice metallic gold with some shades of green. I'll mention again how impressed I am that Hasbro has kept shades of colors matching across several different types of materials. It all looks very good together.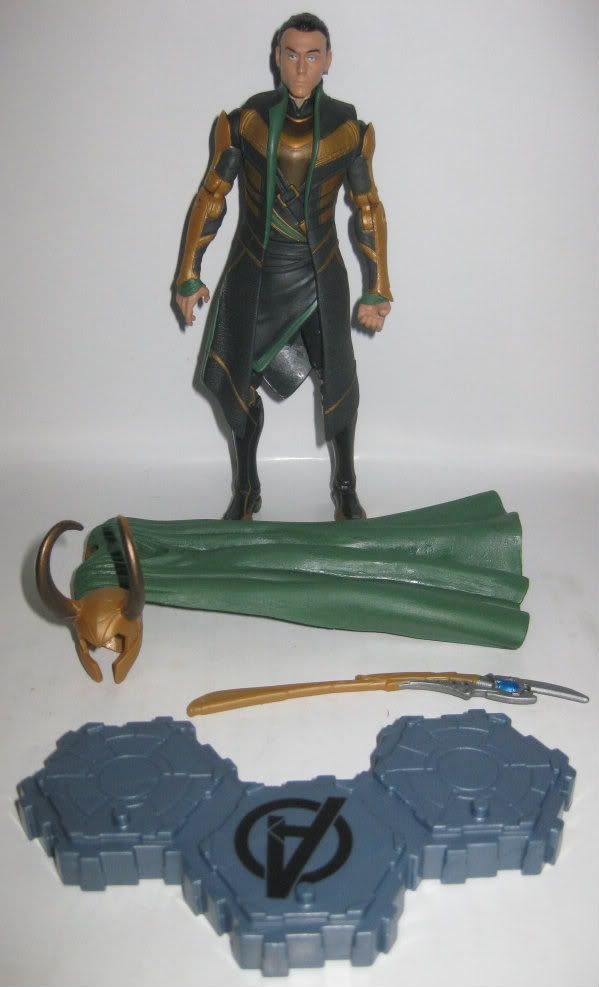 Accessories: Loki comes with his helmet, the Chitauri spear, a cloak, and a stand.
The helmet is a soft plastic that holds its shape surprisingly well. You'd think the horns would be all jacked up, but they look really good. I suppose this plastic is the reason why the helmet is sized correctly and Loki doesn't have smooshy head. I also appreciate that the colors of this figure match across all the parts and different materials. This is something that has always been a challenge in the toy world but Hasbro has been nailing it of late.
The spear looks very nice and is a more rigid plastic. Loki can really only hold it in his left hand, but whatever. The only thing I would change about the spear would have been to make the crystal translucent. And light up. Okay – maybe that last one is a bit ridiculous.
The cloak is also a soft plastic. It has a great shape and the shoulder pads look cool. There is a plug near the top that inserts through a hole in Loki's coat and into his back. It stays in place surprisingly well and looks good on, though the shoulder pads do float just a bit above the figure's shoulders. Not a big deal at all, but just barely noticeable.
The stand is a new one made specifically for the Avengers movie figures. I don't particularly care for stands, but this is a neat one. It has a couple of pegs and the teeth on the sides allow you to connect as many of the stands together as you like. The Avengers "A" is painted on the top. It's a cool design, but I still won't be using these.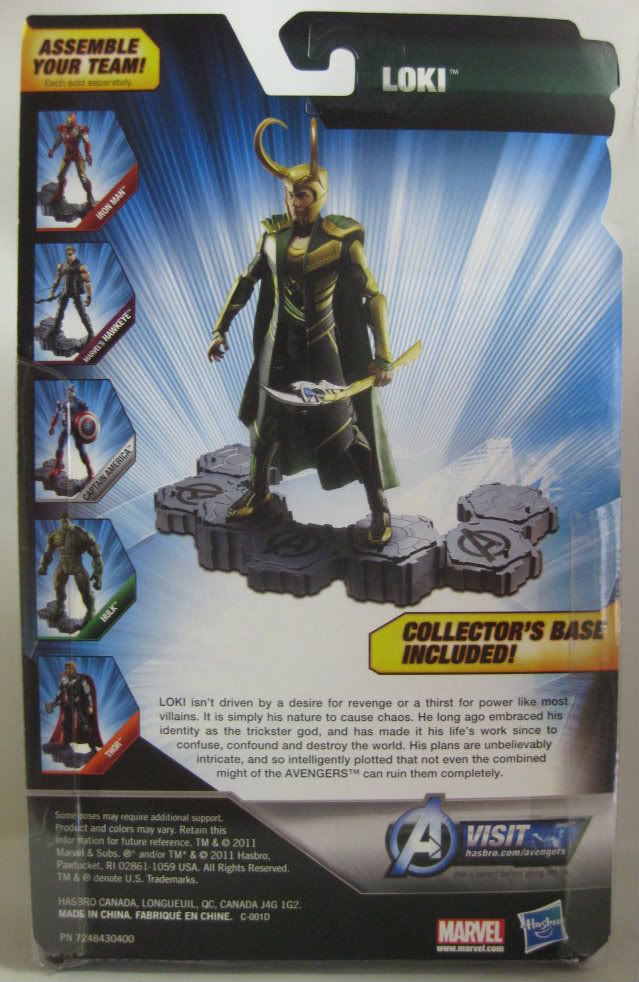 Packaging: Plain ol' blister card with the plastic taped to the back. Fine by me. If Hasbro is putting even a cent more into the figure by using such cheap packaging then I feel it's worth it.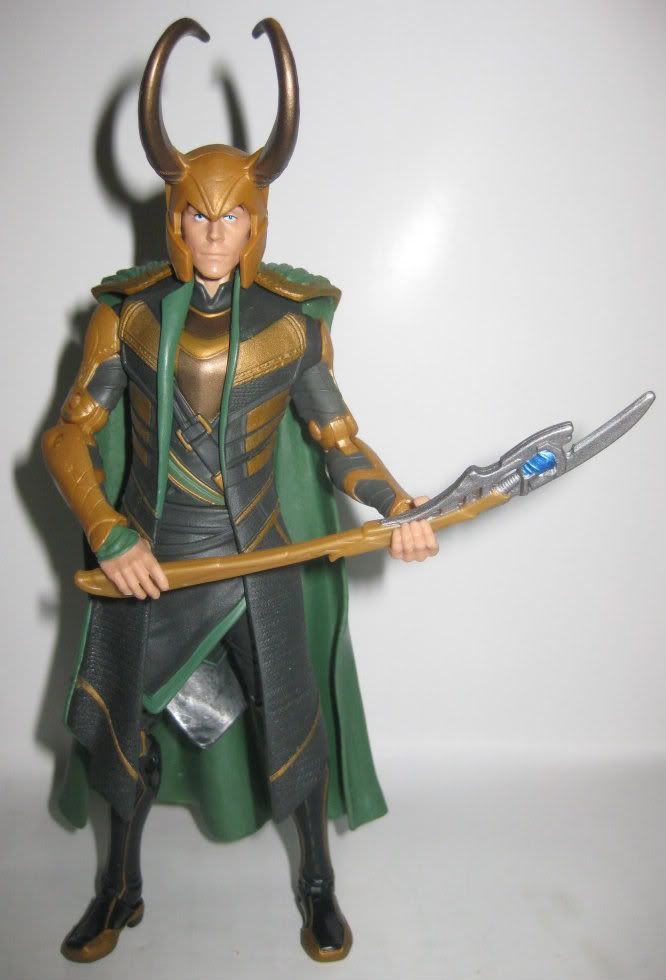 Overall: I find this figure to be almost flawless. It looks awesome, has great articulation, and just enough accessories. Yeah, the articulation is limited by the sculpted clothes, but I can get as many different poses out of him as I feel I need. I can't honestly think of much that could make this figure better.
5 out of 5
Seriously, you guys. This is a great one. I was worried that we wouldn't get a movie Loki back when they put the comic version out with the Thor movie figures. Now we've got one and he's great. Keep an eye out for this guy at Walmart. I have a feeling he's going to be a tough find.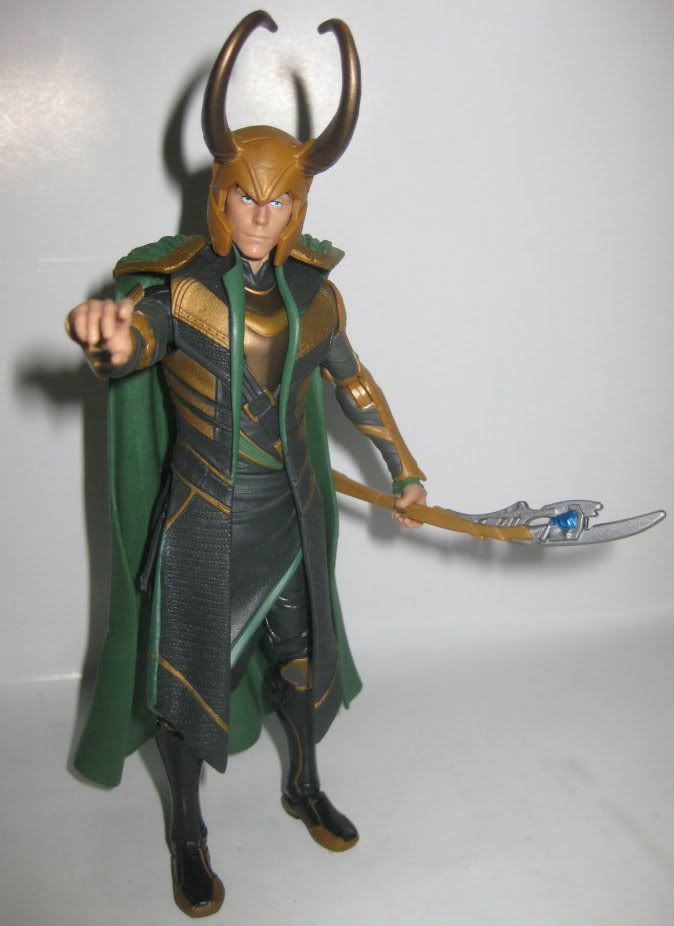 -Phantom