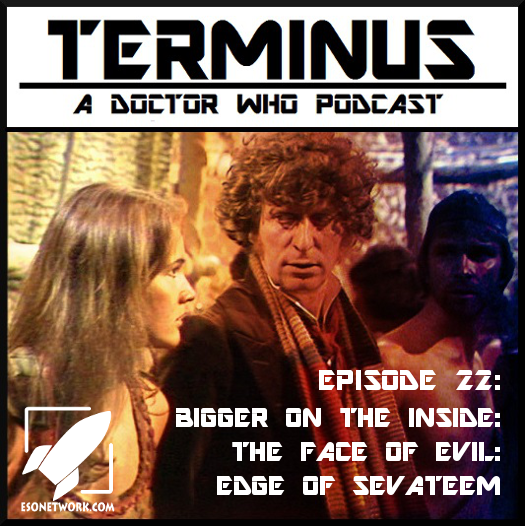 We are returned! We are here!
And on this episode of 'Terminus', I discuss Leela of the Sevateem's debut story 'The Face of Evil'. All as a continuation, of course, of my ongoing 'Bigger on the Inside' series about some of my favorite companion's first stories. This one is especially happy-making and sentimental for me, by the way, as Leela was actually my very first companion back in the day when I was young.
Also on this episode, you'll find some belated recommendations of Spooky Doctor Who stories from both the new and classic series for Halloween fun (I'd honestly hoped to have this out by Halloween, natch, but sadly it was not to be!), excitement about Dalek-related potential social gatherings, musings on the mysterious Janice Thorn, a bit of scratchy sore throat on my end, the Doctor as a Mountain Man, a manipulative and schizophrenic AI playing psychological games, hoarding tests FTW, and quite a bit of a meditation on eugenics.
This is probably the longest episode I've ever done, as I just found I had SO MUCH to talk about, so remember that the time stamps below are your friend to help you navigate through everything to make things easier for you. Still, I hope you all will join me for my review and episode discussion. And, as always, glad to have you all aboard. Enjoy the ride!
Episode 22 – Bigger on the Inside: The Face of Evil: Edge of Sevateem
Table of Contents:
0:00:00 – Opening and Welcome
0:03:25 – Spooky Doctor Who Stories for Halloween Fun Times
0:12:08 – Happy Fandom Time
0:21:52 – Discussion of "The Face of Evil": Intro, General Thoughts, & Episode One
0:50:48 – Discussion of "The Face of Evil": Episode Two
1:06:29 – Discussion of "The Face of Evil": Episode Three
1:22:13 – Discussion of "The Face of Evil": Episode Four & Wrap-Up
1:40:33 – Coming Soon on the Next Episode! (Plus Goodbye, Thanks, and Outro!)
---
Links:
+ Terminus Website
+ RSS feed
+ Terminus Email
+ Terminus on Stitcher
+ Terminus on iTunes
+ Terminus on Facebook: https://www.facebook.com/groups/terminusdwpodcast/ (the social group) or Like Us at: https://www.facebook.com/TerminusDWPodcast
+ Terminus on Twitter
+ Terminus on Tumblr
+ Terminus Amazon Online Store
+ Music Theme:  'Violin Doctor Who Theme' by ViolinistBAKA (on YouTube)
---
Fun Links Related to the Show: