PRESS RELEASE: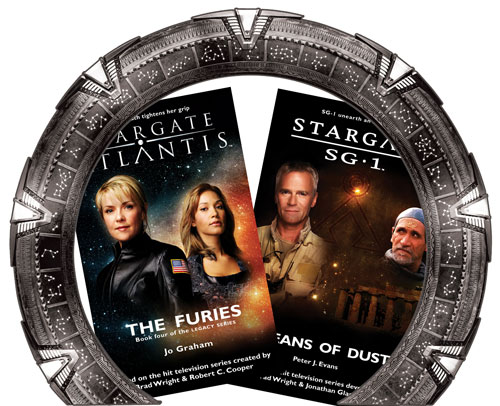 Dear Stargate fans
STARGATE ATLANTIS: The Furies (book 4 in the Legacy series) is available exclusively in ebook format from TODAY – a week ahead of paperback copies going on sale at stargatenovels.com.
Get your Kindle copy from Amazon (that's Amazon US, UK, Germany and France) at $4.95/£3.20/€3,73 or in other ebook formats from Crossroad Press.

STARGATE ATLANTIS The Furies (Legacy Book 4) – Jo Graham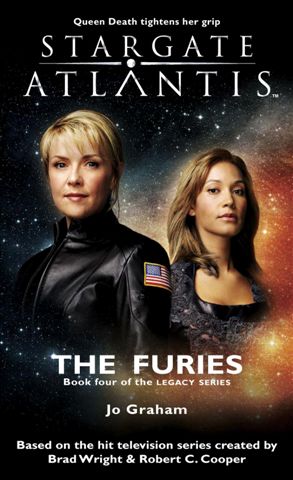 The Atlantis team resort to desperate measures in their bid to save Doctor Rodney McKay from the clutches of Queen Death.
With the lives of McKay and Colonel Sheppard at stake, Teyla Emmagan must once again assume the role of Queen Steelflower as she attempts a dangerous subterfuge – a subterfuge made more complex by a tentative alliance with Guide, the Wraith once known as Todd.  But in order to deceive Queen Death, Teyla must embrace her Wraith heritage more closely than she has ever done before.  So closely that she may lose herself forever…
As the web of intrigue, deceit and betrayal grows ever more tangled, this thrilling installment of the Legacy series takes the team into the very heart of darkness.
This is the book that everyone has been waiting for (sorry for the wait, guys!). So order your ebook copy today from the retailers listed above! Or if you can wait a bit longer for the paperback, it will be available to order from 28th June at www.stargatenovels.com
Meanwhile, catch up with Colonel Jack O'Neill and his team in our brand new STARGATE SG-1 adventure…
STARGATE SG-1: Oceans of Dust – by Peter J. Evans 
Something lurks beneath the ancient sands of Egypt.  It is the stuff of Jaffa nightmares, its name a whisper in the dark.  And it is stirring…
When disaster strikes an Egyptian dig, SG-1 are brought in to investigate. But nothing can prepare them for what they find among the ruins. Walking in the dust of a thousand deaths, they discover a creature of unimaginable evil – a creature the insane Goa'uld Neheb-Kau wants to use as a terrible weapon.
With Teal'c and Major Carter in the hands of the enemy, Colonel O'Neill and Daniel Jackson recruit Master Bra'tac to help track the creature across the galaxy in a desperate bid to destroy it before it turns their friends – and the whole galaxy – to dust…
Kindle edition available from Amazon (US, UK, France and Germany) at $4.95/£3.20/€3,73 – also available from Barnes & Noble, Smashwords and Crossroads Press.  Paperback available at $10.95 from stargatenovels.com.
Our Stargate summer of reading continues next month, with the release of STARGATE SG-1: Heart's Desire, a classic SG-1 adventure from STARGATE ATLANTIS Legacy author, Amy Griswold.  You won't want to miss it!
So download, sit back and enjoy!
The Stargate Novels Team
The Fandemonium Team
www.stargatenovels.com
info[at]stargatenovels.com
STARGATE SG-1 © 1997-2012 MGM Television Entertainment Inc. and MGM Global Holdings Inc. STARGATE SG-1 is a trademark of Metro-Goldwyn-Mayer Studios Inc. All Rights Reserved. STARGATE ATLANTIS is a trademark of Metro-Goldwyn-Mayer Studios Inc. All Rights Reserved.
STARGATE UNIVERSE is a trademark of Metro-Goldwyn-Mayer Studios Inc. All Rights Reserved.
METRO-GOLDWYN-MAYER ™ & © 2012 Metro-Goldwyn-Mayer Studios Inc. Official site: www.stargate.mgm.com