At the time I wrote this my TV-on-DVD undertaking was watching every single episode of Doctor Who featuring Jon Pertwee as The Doctor (1970-1974). My Doctor will always be Tom Baker, but I am found that Jon Pertwee was a singular and special Doctor that I could appreciate on a wholly different level from any other Doctor, much like Roger Moore's James Bond. Doctor Three knows Venusian Kung-Fu and he utilizes it all the time. Unlike the other ten pacifistic incarnations of the Doctor, Pertwee's Time Lord is more than willing to beat an alien down if he needs to. And sometimes when he doesn't need to. I've seen him chop dudes unconscious – risking concussion and even death – when he could have easily avoided them entirely by just walking more quietly or ducking behind a tapestry.
Which brings me to another reason I love the Third Doctor – dude has no tolerance for anybody. When he's not busy saving the world, he's straight-up verbally abusing everybody he knows. He absolutely cannot believe how dumb everybody on Earth is. The story is that he was stranded there by the rest of the Time Lords as punishment, so one could understand his being a little crotchety.
But this Doctor is a Man of Action. He's always trying to fix the TARDIS or visit some obscure Earth location or something. He's proactive.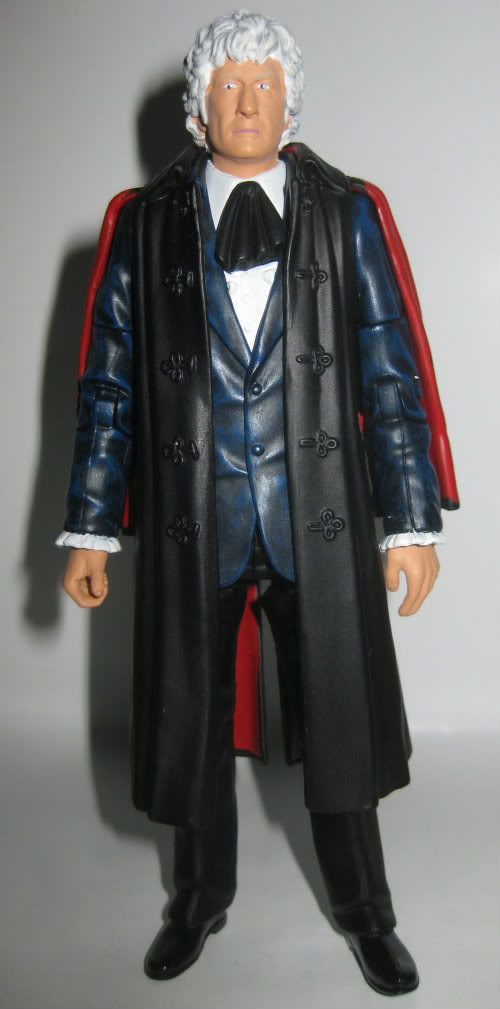 First Glance: This particular Doctor Three comes from a two-pack that also included a Sea Devil – we'll get to him and his sexy fishnet teddy later on. The Doctor figure looks awesome. I wouldn't have minded one without his cloak thingy, but I'm sure I'll end up with one like that sooner or later.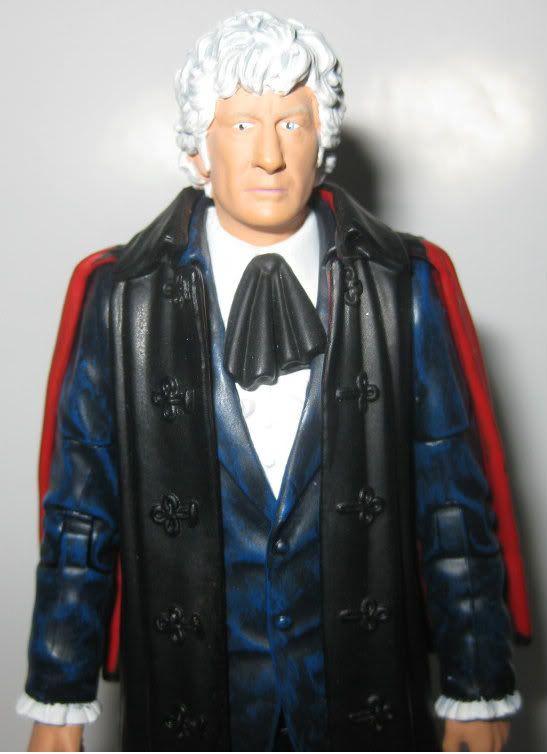 Sculpt: Like most Character Options figures (up until recently) this Doctor features pretty good articulation until you get to the upper arms.
He has swivels at the shoulders, neck, biceps, wrists, waist, and thighs. The elbows and knees pivot and the hips are the pivot/swivel ball joint analog that CO and Mattel favor. My issue is with the shoulders and the biceps. As of now CO is using ball joint analogs on its figures and I am very happy about that, but this one has a simple swivel that just doesn't get the job done. I'm also not crazy about that bicep swivel. I appreciate that they are trying to maintain a more realistic profile on these figures – they are proportioned like real people rather than action figures – but a joint that makes the figure ugly when it is utilized may as well not be there. Just a little more rounding on the arms would make it so that the bicep swivel wouldn't be so jarring.
The actual sculpt of the figure is nothing short of wonderful. The likeness is outstanding. It always amazes me when hand-sculpted figures look as good as or better than ones that utilize a scan. This really looks like a tiny, little Jon Pertwee. You know, like the kind you might find running around your (Carnival of Monsters machine).
The clothing is great, with the frilly shirt sculpted underneath a slightly softer plastic jacket and cloak thingy.
Side Note: If anybody knows what that article of clothing is called or where I can get one, let me know. I need it for my Doctor Three costume.
The cloak does not interfere too much with the movement of the Doctor's arms. You can't move them back too much, but you really don't need to. Speaking of his arms, his shirt sleeves protrude from under the jacket and are appropriately frilly. Also, the figure sports Pertwee's pinky ring – sculpted on, not painted.

The slacks and shoes look good. There are some nice folds and creases in the slacks and the shoes are recognizable as Doctor Three's zip-up disco boots.
Design: The paint on the head is fantastic. CO used some minor variations in color to capture Pertwee's elusive hair color and the face has just enough subtle highlighting to look lifelike. The eyes are well-placed and tightly done.
The Doctor's shirt has a bit of highlighting to keep it form being just plain white. His tie is painted well and none of the color bleeds out onto the shirt.
The rest of his clothing is fairly plain, but unless they wanted to flock the jacket and the cloak there's not a whole lot more CO could have done. The lining of the cloak is painted red and looks very nice.
Now that I think about it, I kind of want a flocked Doctor Three.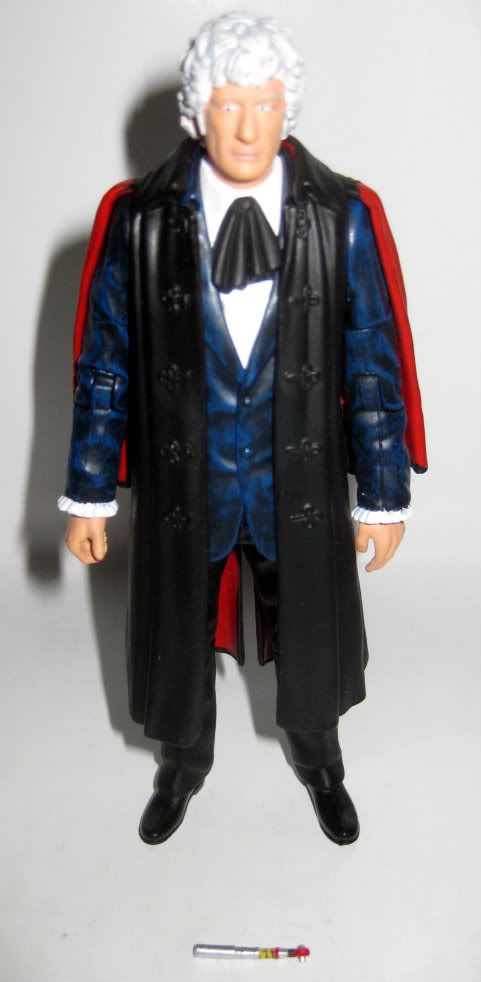 Accessories: The Doctor comes with his Sonic Screwdriver. It looks great, has an impressive and accurate deco, and most importantly the Doctor can hold it.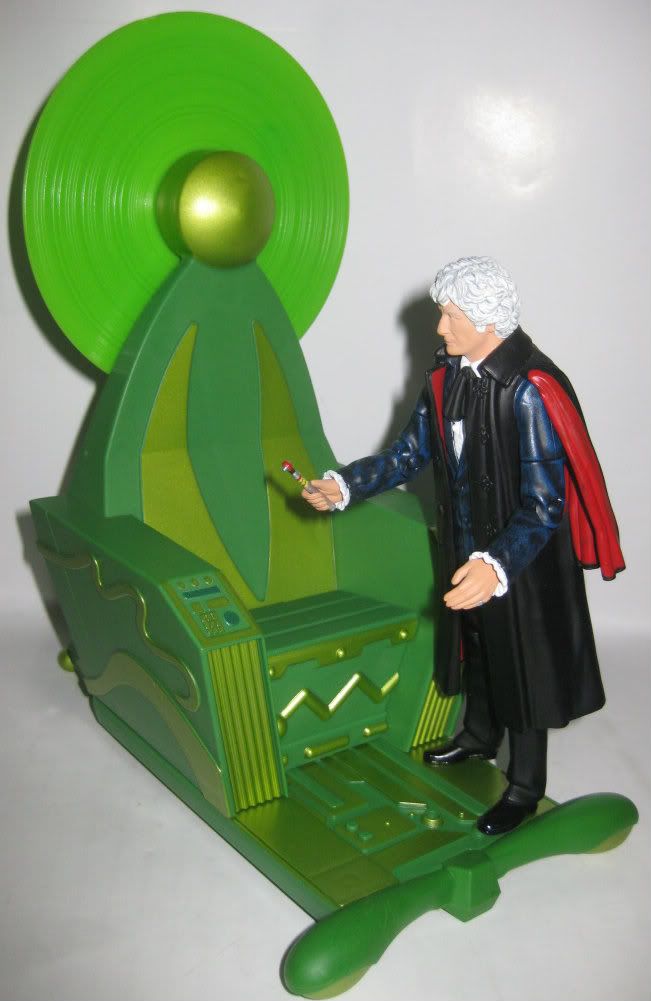 Packaging: The Doctor came packed with a Sea Devil in a clamshell. I don't like clamshells at all because I feel like you shouldn't need tools to open a toy. But the graphics on the package look good and are certainly eye-catching. I don't suppose I'll ever see any of these at retail, but they would stand out. Oh, and I had to use some substitute pictures here because I either can't find the pictures I took of the package or never actually took them. Obviously this is Metron's chair and did not come with the Doctor, but it is green like a Sea Devil.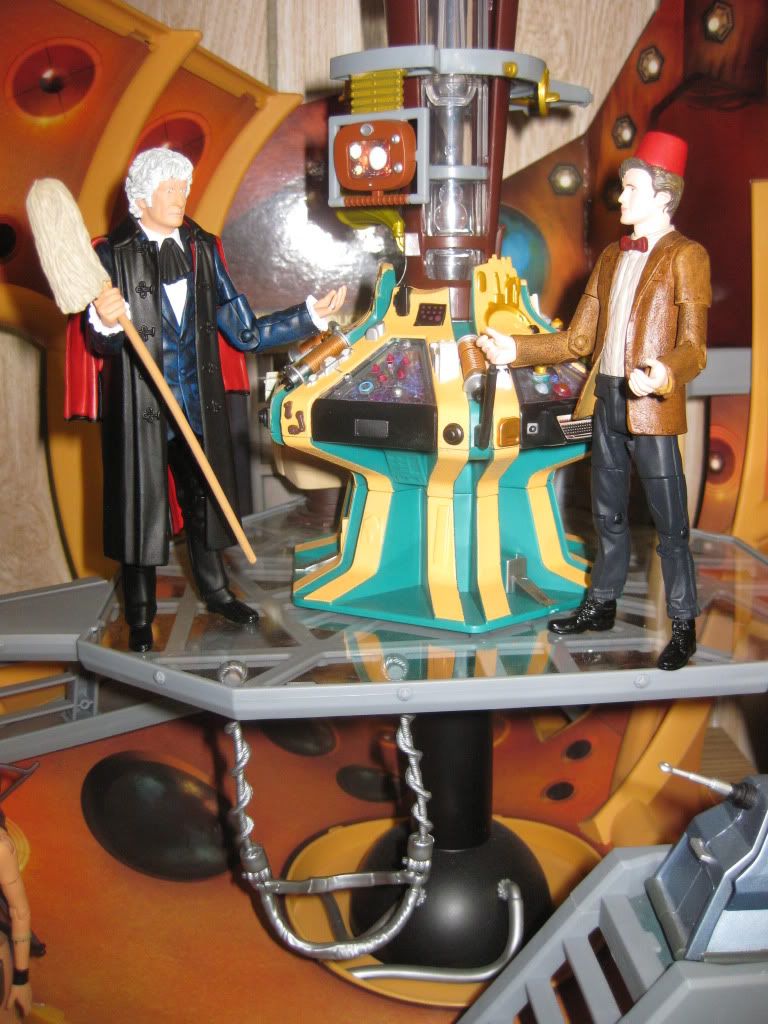 Overall: I very much like this figure, but I think my favorite version of Doctor Three is the one in the Eleven Doctors TARDIS box set. Still, if you don't want all eleven or can't spend a hundred bucks on toys this is a good figure.
4 out of 5
You can probably find this set for a reasonable price. I got mine from GoHastings for less than thirty bucks.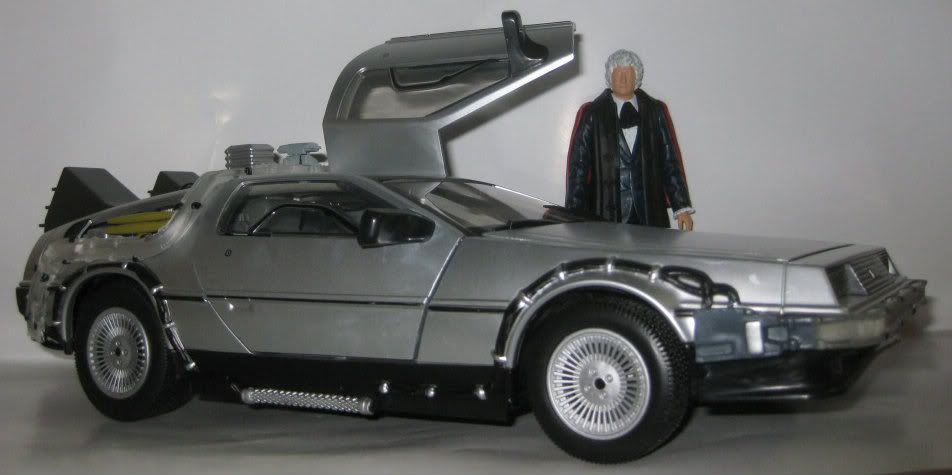 -Phantom